Another suitor wants BMI – and has put a $2bn+ proposal on the table
One of the biggest stories in the music industry this year is the ongoing potential sale of US collection society, BMI.
MBW was first to report in August that private equity firm New Mountain Capital (NMC) – majority-owner of music biz valuer Citrin Cooperman – was in talks to acquire BMI.
New Mountain's reported USD $1.7 billion bid, we're told, represents an implied multiple of 11.7X BMI's latest annual EBITDA ($145m).
But New Mountain isn't the only potential suitor who wants BMI, the world's largest music PRO by reported annual revenue.
Credible MBW sources have told us that another financial player has made a weighty acquisition proposal for BMI, delivered to the music org's management.
This approach commenced in August, subsequent to BMI entering exclusive discussions with NMC.
The most interesting thing about the newer proposal? It cites a 15X multiple on BMI's $145 million annual EBITDA – suggesting an enterprise valuation for the PRO of $2.175 billion.
Following our conversations with sources, here's what we know about BMI's mystery proposer:
It's a 'blank check' company – aka a SPAC – that is publicly traded in New York;
To date, it has specialized in tech that serves a non-entertainment sector;
Its leadership has existing music industry links, particularly in the world of music rights acquisition. Said leadership also has a history of working at companies like JP Morgan Chase, The Royal Bank Of Scotland, and Bank of America;
The SPAC's bid for BMI is equity rather than cash-based, with substantial additional growth capital for BMI's future promised on top. The bid, based on a 'de-SPAC transition' model, includes sponsors such as BlackRock and other large asset managers. The SPAC in question argues that its proposed structure would result in long-term investment in BMI's systems and global expansion. It also argues that this would be a better outcome for songwriters, and the growth prospects of BMI, than a private equity acquisition.
MBW's sources haven't yet whispered the name of BMI's SPAC proposer – but we do know that its company brand begins with 'C'. And that, according to one source, "it should be treated like royalty ;)". Whatever that means!
We also know this proposal is real. However, BMI's response to the $2.175 billion proposition has so far been… lukewarm.
The PRO continues to exclusively focus, we understand, on its New Mountain Capital discussions, which are ongoing.
"From where I'm sitting the SPAC proposal doesn't seem to have been taken very seriously at BMI… Are BMI's songwriters or board members even aware of it?"

MBW source
One source close to the $2.175 billion SPAC bid said: "[The SPAC] thinks their proposal provides significantly greater value for BMI's stakeholders compared to the rival private equity offer, both now and over the long term.
"From where I'm sitting the SPAC proposal doesn't seem to have been taken very seriously at BMI. This seems odd for an offer worth nearly half a billion dollars more by value than [the NMC bid]. Are BMI's songwriters or board members even aware of it?"
Said another source: "BMI's leadership might be frightened off by being involved in a SPAC, but the [group behind the $2.175 billion proposal] believes it can ultimately bring more value, generate more money, and develop better systems than a private equity takeover.
"It may be the case that the New Mountain [bid] is viewed as more strategic at BMI, as [NMC] bought Citrin Cooperman and is already invested in tech that can possibly help BMI optimize.
"But many of us believe BMI and its songwriter members would benefit more in the long-term from the investment plan that comes with the $2bn+ offer."
A BMI spokesperson declined to comment when contacted by MBW.
It's understood that Goldman Sachs ran the process that ended in BMI entering exclusive discussions with New Mountain Capital.
---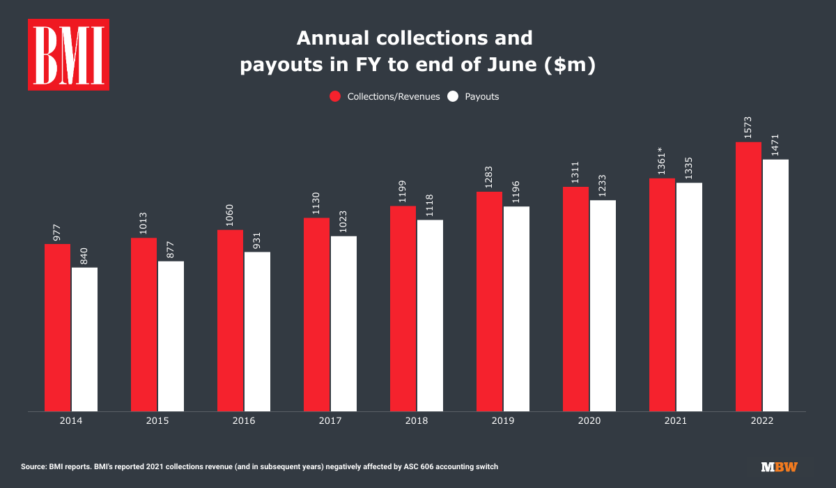 ---
BMI initially explored a sale process back in spring/summer 2022, but pulled the plug in August that year stating that a transaction was "no longer an avenue we are considering".
Two months later, in October 2022, BMI announced that it was switching away from its long-term, non-profit setup and towards a for-profit business model.
That for-profit model is now in full swing.
Last month (October 2023), in its latest annual report, BMI's CEO, Mike O'Neill, revealed that BMI is planning to increase the margin of annual collected revenue it retains (i.e. spends on operating costs or banks as profit).
Said O'Neill: "As we look at the next three years of our business, our goal is to distribute 85% of licensing revenue to our songwriters, composers and publishers and retain approximately 15% to cover our expenses/overhead (which have historically run around 10%) and a modest profit margin."Music Business Worldwide