Beggars Group's revenue up 13.9% YoY in 2022, but inflation, stagnant streaming prices take bite out of profit
Inflation, combined with a lack of price hikes at many streaming services, took a significant bite out of Beggars Group's profits last year – despite a double-digit revenue rise.
The UK-headquartered firm, one of the world's most prominent independent music rights companies, recently revealed its earnings for 2022 in a regulatory filing to UK Companies House.
The filing showed total operating profits for the year dropped to GBP £7.97 million (USD $9.82 million at the average exchange rate for 2022 as per the IRS).
That's down 20.5% from £10.03 million in 2021 (or $13.79 million at the average 2021 exchange rate).
"We continued to boost our catalog by working with independent retail on vinyl re-issue activity and with our streaming partners on campaigns geared towards a global fanbase. This activity, as well as growth in DSP subscriber numbers, continues to increase catalog income streams," the company said in the regulatory filing.
Beggars said it released 31 new records in 2022, down from 33 the year before.
Amongst the group's notable commercial successes in 2022 were Big Thief's New Dragon Warm Mountain (4AD), The Smile's A Light for Attracting Attention (XL), Spoon's Lucifer on the Sofa (Matador), and Black Midi's Hellfire (Rough Trade).
The company owns 50% of various labels as part of joint ventures, including Matador, Rough Trade and XL Recordings. It fully owns its music publishing arm, Beggars Music, as well as label 4AD.
Beggars' FY 2022 turnover including those joint ventures came in at £91.08 million ($112.3 million) in 2022, up 13.9% YoY.
Turnover excluding the joint ventures came in at £52.5 million ($64.73 million), up 16.3% from the year before.
Of that turnover, £12.3 million ($15.16 million) came from the UK, while £40.2 million ($49.56 million) came from the rest of the world.
However, the gains in the company's top line were offset by rising costs.
The company's cost of sales jumped to £11.73 million ($14.46 million), up 22.9% from the year before. Distribution expenses jumped 27.7% YoY, to £3.9 million ($4.8 million), while administrative expenses rose 15.3% YoY, to £33.4 million ($41.18 million).
---

---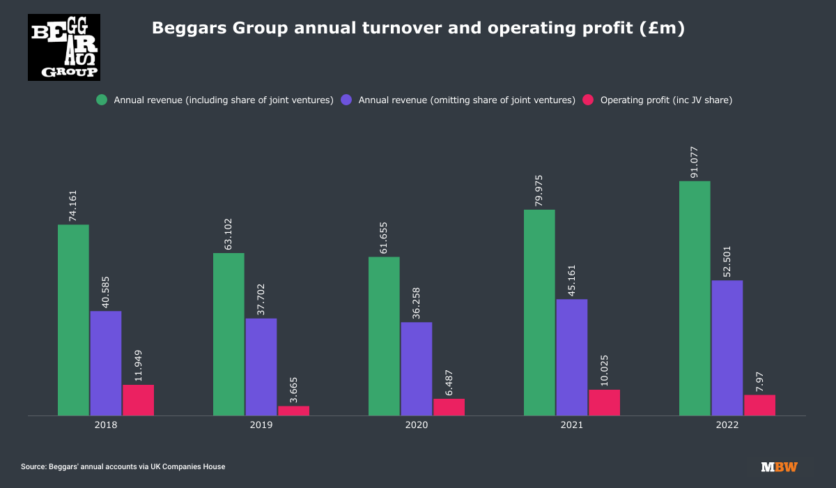 ---
Additionally, the company paid out £12 million ($14.79m) in interim ordinary dividends during the year, up from £1 million ($1.37m) in 2021.
"The increased costs of energy, raw materials and freight are a growing challenge for our supply chain, but we remain committed to satisfying the huge fanbase for vinyl," the company said.
"The poor economic outlook in the UK and Europe together with relatively high inflation has continued to bring pressure on marketing, production, and distribution costs as well as on overheads in general.
"On the other hand, the lion's share of our revenues has a ceiling as subscription retail prices are set by DSPs such as Spotify and Apple. Consequently, label margins have been adversely affected."
Beggars added: "We believe that streaming subscriptions have been undervalued and are pleased that the lead set by certain DSPs in increasing prices is being matched by the rest of the market."
That's a reference to the recent announcements of price hikes at Spotify and YouTube Music, which followed earlier price hikes at Apple Music, Amazon Music and other DSPs. Most of these price hikes would not have been reflected in Beggars Group's numbers for 2022.
"We believe that streaming subscriptions have been undervalued and are pleased that the lead set by certain DSP in increasing prices is being matched by the rest of the market."

Beggars Group

---
The latest earnings report from Beggars is a far cry from its report last year, covering 2021, when the company clocked a 54.5% YoY jump in operating profit, largely on strength from XL Recordings.
That year, the US recording rights to Adele's first three albums (19, 21 and 25) reverted to XL Recordings, following the expiry of a licensing agreement between XL and Sony Music/Columbia.
XL Recordings generated £56.875 million ($78.24 million) in turnover in 2021, up 47% YoY.
Beggars Group had £34.38 million in cash on hand at the end of 2022, down from £40.13 million a year earlier.
It had an average of 156 employees during 2022, up from 152 in 2021.
Beggars is wholly owned by its Chairman, Martin Mills.Music Business Worldwide