Daniel Ek just banked $64M selling Spotify shares – three months after he banked $100M doing the same thing
A little-known fact for you: Daniel Ek doesn't take an annual salary from Spotify.
Then again, why would he?
The single largest shareholder in Spotify at the close of 2022 was Ek, who held 31.93 million ordinary shares in the company, or 16.5% of the total, according to SEC filings.
At SPOT's current share price on the NYSE (USD $161.82) those 31.93 million shares are cumulatively worth USD $5.17 billion.
Earlier today (October 25), as spotted by MBW, Ek sold a relative thimbleful of his Spotify stock… for a pretty penny.
According to a Spotify company SEC document, Ek today filed to sell 400,000 shares in Spotify for total proceeds of USD $64.21 million.
According to the SEC document (see below), the sale of Ek's 400,000 shares was handled by JP Morgan.
Ek initially received these 400,000 shares via a stock option exercise, revealed the filing, back in July 2020.
---

---
Today's share sale by Ek follows a separate offloading of stock by the Spotify founder in July, when he sold 675,000 shares, which at the time were worth a shade over $100 million.
In both cases – today's sale and the July share sale – Ek's shares were technically sold by D.G.E Investments Limited, an entity indirectly wholly owned by Ek himself.
In 2023 terms, it's a good time for Ek to sell: Spotify's share price closed today at $161.82, up 97.6% on where it was at the close of the first trading day of the year, according to Google Finance.
The company's current market cap stands at USD $31.50 billion.
Spotify's peak day-closing share price so far this year came in mid-July, when it hit $179.84.
---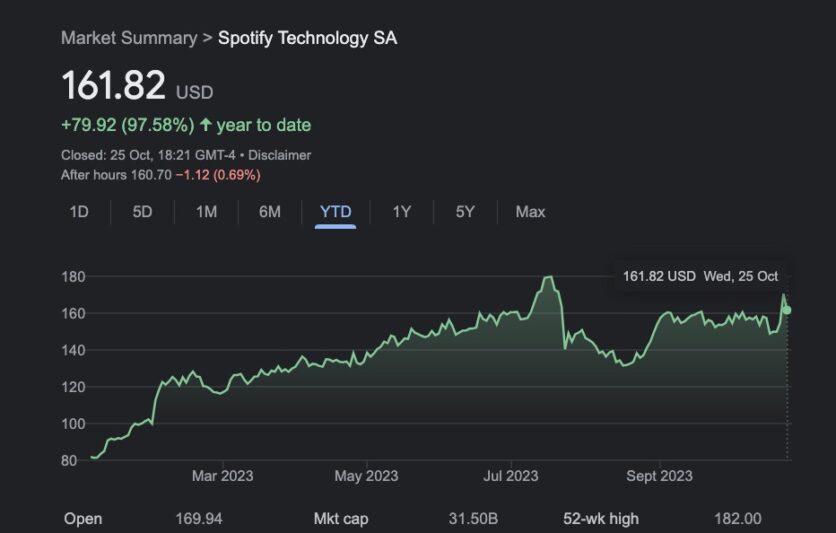 ---
Yesterday (October 24), MBW broke the news that Spotify is set to introduce significant adjustments to its royalty payout model in Q1 2024.
According to our sources, Spotify plans to introduce a system whereby each track on its service has to hit a minimum number of streams each year before it can generate royalties on the platform.
Indications at this stage are that this minimum threshold number will be in the hundreds, rather than the thousands or tens of thousands.
Also reported yesterday: Spotify added 6 million paying subscribers around the world in Q3 – the three months to end of September.
The company ended Q3 with 226 million paying users around the world, with a total MAU (Monthly Active User) base of 574 million.
Speaking to analysts on an earnings call about Spotify's global price rises this summer, Daniel Ek said that price hikes are "definitely part now of the arsenal of tools we can deploy to keep growing the business, and I think you should expect us to use that when we see the appropriate dynamics".Music Business Worldwide