Daniel Ek sells $100m worth of Spotify shares
Spotify CEO Daniel Ek is selling 675,000 Spotify shares worth $100 million.
That's according to an SEC filing that went live on Thursday (July 27).
J.P. Morgan Securities is named in the filing as the broker for the sale.
The filing also reveals that these shares are to be sold by D.G.E Investments Limited, an entity indirectly wholly owned by Ek.
According to the filing, of those 675,000 shares being sold by Ek, 471,565 were acquired on May 5, 2022, on the open market.
---

---

---
On May 6, 2022, Ek announced to investors via Twitter that he was personally purchasing $50 million in Spotify stock (which closed that day at $104.68) because he believed "our best days are ahead".
He added in a subsequent Tweet: "While I'm not required to disclose these purchases because of our foreign company status, I thought it was important for shareholders to know."
The company's share price today (Thursday, July 27) is $144.52 on the NYSE, and has this month been trading at its highest levels in over a year, marking quite a turnaround for the company.
After peaking at around $364 per share in February of 2021, Spotify followed the tech markets downward, falling more than 79%, to a bottom around $75 per share in December of 2022.
That means the company's market capitalization reached a peak at around $70.5 billion, before falling to some $14.5 billion, then recovering to its current market cap of around $27.95 billion.
---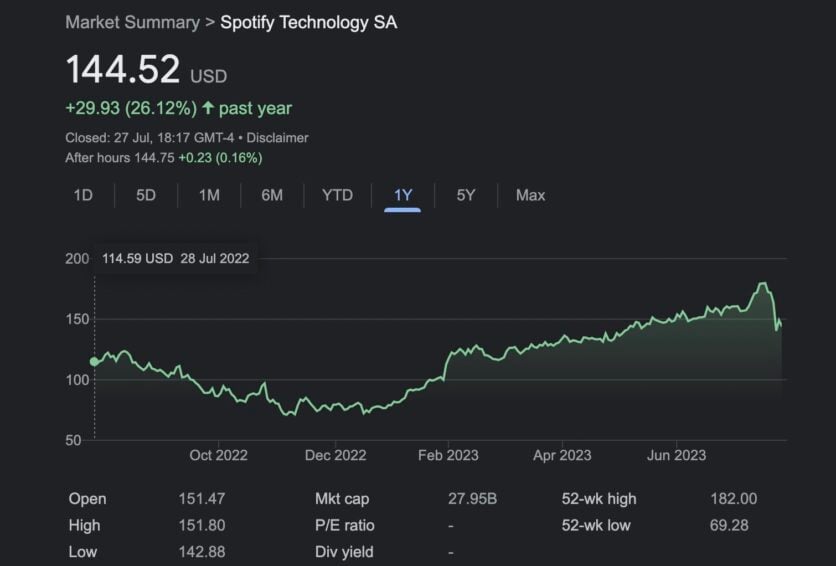 ---
Ek has only sold a small amount of his shareholding. In total, at today's share price, it's worth around $4.6 billion.
The single largest shareholder in Spotify at the close of 2022 was Ek, who held 31.93 million shares, or 16.5% of the total, according to SEC filings.
Ek owns most of his shares through holding companies. A company called D.G.E. Investments, headquartered in Cyprus, owns the vast majority of Ek's shares. D.G.E. Investments is, in turn, owned by D.G.E. Holding – also based in Cyprus – and its sole shareholder is Ek.
---
News of Ek's stock sale arrives two days after his company announced its Q2 financial results.
Total revenue came in at €3.17 billion, in line with guidance and a 14% YoY jump at constant currency – although slightly below the expectations of analysts surveyed by Refinitiv, who had been looking for around €3.21 billion.
Yet it was the company's reported net loss that drew the attention of the markets. Coming in at €302 million for the quarter, or €1.55 per share, it was considerably wider than the €125 million (€0.65 per share) loss in Q2 2022.
Markets reacted negatively to the news, with SPOT shares dropping more than 13.7% in early trading on the New York Stock Exchange on Tuesday, taking the share price down to around USD $141 as of 11:55 am ET.
The platform's MAUs soared by 36 million in Q2 to 551 million, a 27% YoY increase, while the number of paid subscribers jumped 10 million to hit a total of 220 million (a 17% YoY increase).Music Business Worldwide