Deezer drops heavy hint that music streaming price hikes could be a recurring phenomenon
France-headquartered Deezer has given the music industry its first solid hint that recent price hikes at music streaming services are set to become a recurring phenomenon.
On Deezer's latest earnings call Thursday (August 3), CEO Jeronimo Folgueira told analysts that the streaming service's own price hike in early 2022 didn't have a negative impact on its subscription numbers – a fact that opens the door to further increases in subscription prices.
"Deezer was the first player to raise prices in early 2022, with pretty much no impact on churn, which has clearly demonstrated that music is highly undervalued and that platforms like us have more pricing power than initially anticipated," Folgueira said.
"Since then, all other global platforms have followed our move, which gives us the opportunity to review pricing again in the near future."
A second price hike at Deezer is, for the time being, a hypothetical notion – the company hasn't built such an increase into its guidance for H2 2023, Folgueira clarified on the call.
Yet Folgueira's nod to "review[ing] pricing again in the near future" will be music to the ears of various industry stakeholders, who agree with the exec that music's digital subscription offering continues to be heavily under-monetized versus that of, for example, film and television.
"Deezer was the first player to raise prices in early 2022… Since then, all other global platforms have followed our move, which gives us the opportunity to review pricing again in the near future."

Jeronimo Folgueira, Deezer
In April, the Bill Ackman-led Pershing Square Holdings – a ~10% stakeholder in Universal Music Group – told its investors that it believed services such as Deezer, Amazon Music, and Apple Music "breaking the $10 [per month subscription pricing] barrier" was a "watershed moment" for the music business.
Subsequently, predicted Pershing, "regular price increases will become the norm in the audio streaming industry as they are in the video streaming industry".
(Ackman's company rightly predicted in April that "other platforms" would follow the lead of Deezer, Apple Music et al. For one, Spotify famously increased its prices in 53 markets two weeks ago, raising its flagship individual Premium price in the US to $10.99 per month.)
In June, Goldman Sachs, in its latest Music In The Air report, published updated forecasts for the music industry's future value – doing so on the basis that streaming prices will rise by an average of 3% per year in 'Developed Markets' such as the US and UK.
"We acknowledge that not all DSPs will raise prices at the same time and in every market; however, certain years may see larger/smaller price increases on average than others," said Goldman in the report.
At a conference this past spring, Warner Music Group Chief Financial Officer Eric Levin lamented that "there have not been rate increases historically" among streaming services, and that a shift to such a model is "long overdue."
Levin noted that he came to the music business from the cable TV industry, "where price increases were something… the cable industry did every single year, while growing subscribers."
He added that he was hopeful that music streaming services will "start to understand that the industry can bear it, [that] they start to have confidence in the ways to do it successfully, that they continue to look at the price value of music relative to what consumers pay for other products and understand that there's more room for increases."
---
Elsewhere on Deezer's Q2 earnings call last week, Jeronimo Folgueira said that Deezer was "the first to show the pricing potential for the industry. We are at the forefront of the artist-centric discussion with Universal Music to create a new model that better rewards artists that generate valuable content."
Folgueira was referring to Deezer's partnership with Universal Music Group (UMG), revealed earlier this year, to "investigate potential new economic models for music streaming that more fully recognize the value artists create."
UMG has been at the forefront of efforts to replace the streaming industry's current pro-rata system of payments to artists with an "artist-centric" model that would reward higher-valued artists with larger payments. Under the current model, all artists are paid equally, according to their share of streams.
---
Deezer's earnings for H1 2023, released Wednesday (August 2), showed overall revenue up 6.5% YoY on a constant currency basis, to €233.2 million. More than half of that revenue came from the streaming service's home market of France, where it rose 7.2% YoY, to €142 million.
---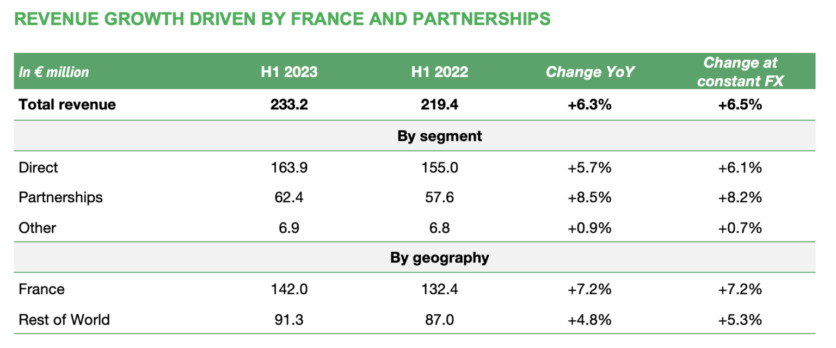 ---
Outside of France, Deezer's revenues grew 5.3% YoY, to €91.3 million, in the first six months of 2023.
However, the company's subscriber growth has largely stalled. The streaming service's total global subscriber base at the close of June stood at 9.3 million – down 100,000 from the 9.4 million subscribers it counted at the end of June last year, marking a 1.8% YoY decline. The number was effectively unchanged from the end of Q1 2023.
Nevertheless, Deezer subscriber numbers continued to grow in France, where the number of "direct" subscribers grew 8.8% YoY, sitting at 3.6 million as of the end of June, up from 3.3 million a year earlier. The increase was offset by losses in other markets.
Deezer divides its revenue and subscriber numbers into "Direct" and "Partnerships" segments. "Direct" refers to subscribers who signed up to the service on their own, while "Partnerships" refers to subscribers who came to the service via a bundle deal with a telco or other service. These partnerships accounted for nearly 27% of Deezer's revenue in H1 2023.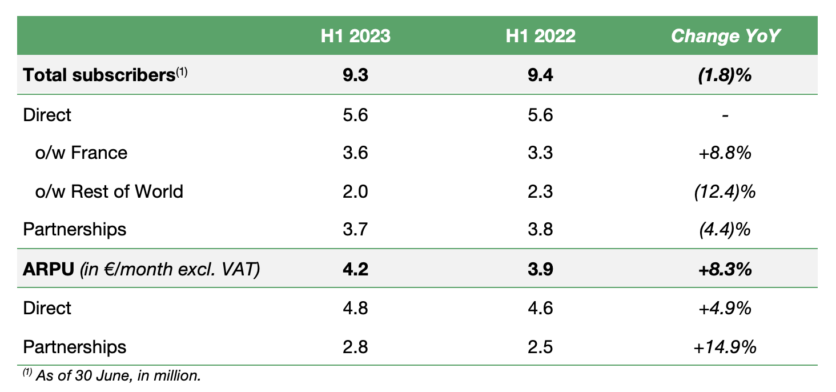 Despite the stalled subscriber numbers, Deezer's average revenue per user (ARPU) grew by 8.3% YoY in H1 2023, rising to €4.20 per subscriber per month, from €3.90 in the first half of 2022.
The company halved its adjusted EBITDA loss for H1, which came in at -€13.1 million in the first six months of 2023, compared to -€24.6 million in the same period a year earlier.
Deezer partly attributed its improved gross profit to "the positive impact of the optimization of [Deezer's] freemium service in long tail countries, offset in part by higher publishing rates."
Folgueira told investors on the earnings call that Deezer had withdrawn its freemium service from 140 of the 180 countries where it had been available.
"We still have a freemium version in 40 countries, the most relevant ones for us, and actually we're able to make it work in those markets," he said.
"Having said that, freemium is not our main source for traffic and it's a very small part of our business… It's a very low single digit of revenue coming from advertising and therefore its not a meaningful driver" of revenue, Folgueira added.Music Business Worldwide