Hipgnosis Songs Fund Chair, Andrew Sutch, to step down; all-important 'continuation vote' looks likely to happen on October 26
Hipgnosis Songs Fund (HSF), the UK-listed music rights fund, looks likely to hold its all-important 2023 'continuation vote' on Thursday, October 26, according to an announcement from the firm today.
Why's that 'likely' rather than 'definitely'? Because there's still a possibility it might get bumped into November – the reasons for which we'll get into later in this article.
The 'continuation vote' will take place at HSF's Annual General Meeting (AGM), and will see the firm's shareholders vote on whether to keep the entity going as a closed-ended investment entity i.e. a publicly-traded bundle of music rights.
How will that vote go? Obviously we don't know yet – and there's the small matter of a $440 million transaction looming that could potentially influence things.
Even so: one wonders if some new changes at HSF, announced today, are related to this 'continuation vote' – and whether or not they amount to concessions to help keep HSF investors happy and confident in the firm's long-term prospects… and voting 'yes, let's keep going'.
The shareholder frustration: NAV vs. public market
First, a bit of important context.
The fundamental revenue performance of HSF doesn't seem to be under scrutiny from shareholders: the company posted its best-ever revenues in the 12 months to end of March, while streaming 'pro-forma' revenue was up 14.8% YoY in calendar 2022.
---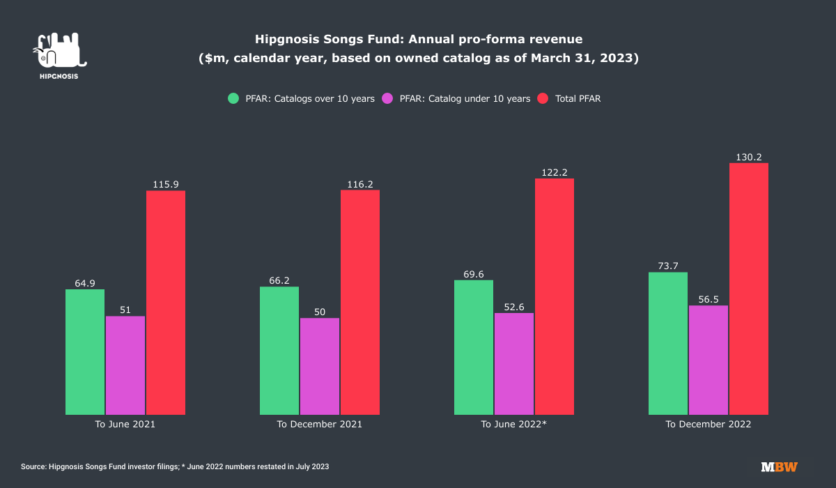 ---
Where HSF shareholders – as well as its management – are finding frustration is in the current gulf between the firm's 'operative Net Asset Value' ('operative NAV') and its value on the public market (i.e. its share price).
For example: On September 14, HSF's market cap stood at approximately GBP £1.125 billion, which represented a 40% discount on the firm's operative NAV of £1.873 billion as of the end of March this year.
(Said 'operative NAV' was calculated by an independent valuer – Citrin Cooperman – using a discount rate of 8.5%.)
This is where the importance of that potential $440 million transaction comes in.
As MBW reported earlier this month, Hipgnosis Songs Fund's shareholders are currently considering a proposal to sell 29 of the company's catalogs to another Hipgnosis company – the Blackstone-backed Hipgnosis Songs Capital (HSC) – for USD $440 million.
That potential transaction is being managed for both HSF and HSC by two separate teams within their mutual investment advisor, Hipgnosis Song Management (HSM), which is run and part-owned by Merck Mercuriadis.
When it announced its intention to explore the $440 million catalog sale to HSC two weeks ago, Hipgnosis Songs Fund confirmed that one of its motivating factors was that the transaction could potentially act "as a catalyst for a re-rating of [HSF's] share price".
Aka: Increasing that share price to bring it up closer to the current operative NAV of the company.
HSC's $440 million offer to acquire the 29 catalogs, HSF confirmed earlier this month, equates to a 26% increase on the amount HSF paid for those catalogs to acquire them in the past.
The $440 million price also reflects a +51% premium on the value of the 29 catalogs implied by Hipgnosis Songs Fund's public market cap for the 30 days ending September 13.
---

What happened today?
Amongst the news confirmed by HSF today (September 28) is that the firm's Chair of its board since 2018, Andrew Sutch, 73, is stepping down, both as HSF board Chair and as a director of the company.
HSF says it's begun a process to recruit a new Chair; Sutch (pictured inset) will leave his post as and when this person is hired, or in any case before HSF's AGM next year (in Q4 2024).
In addition, Andrew Wilkinson, 72, has informed the HSF board of his intention to retire as a board director, which will reduce the company's board to five directors.
HSF also confirmed a number of other new measures in a 'circular' to its shareholders today.
These measures included the fact that, if Hipgnosis Songs Fund shareholders vote to remain a publicly-traded fund (via that 2023 'continuation vote') at the firm's next AGM, then another 'continuation vote' will be put in front of HSF shareholders at an Extraordinary General Meeting in January 2026.
(The 'continuation vote' that will take place in Q4 2023 has been scheduled ever since HSF went public in 2018 – i.e. five years after it floated. The 2026 'Continuation Vote', as newly-agreed, means another one is now being scheduled for around two years' time.)
---
In addition, HSF today confirmed some new amendments to its 'Investment Advisory Agreement' (IAA) with HSM.
These amendments would give HSM a 12-month notice period as HSF's investment advisor should the IAA be terminated at any point following the upcoming 2023 'continuation vote'.
Another clause in the new IAA: If HSF's share price stands at an average discount to 'operative NAV' of 10% or more across the month of January 2025 (with that NAV determined at the time of publication of HSF's interim report for the period to September 30, 2024), the HSF board says it intends to serve notice to terminate the IAA with HSM.
However, HSF's board has also given itself the freedom to un-terminate the IAA during the entire notice period that would follow (e.g. if HSF's board serves 12-month notice on HSM at the end of January 2025, it would have until the end of January 2026 to withdraw its termination decision).
One factor potentially making the future termination of HSM as HSF's investment advisor less likely? MBW understands that, in such a scenario, HSM would have a first-refusal option to acquire HSF's copyright portfolio – and could potentially turn to Blackstone (i.e. the backers of Hipgnosis Songs Capital) to find the money to pull off such an acquisition.
---
Why the $440 million offer is connected to the date of HSF's 'continuation vote'
While HSF shareholders are considering the $440 million offer from HSC to buy the 29 catalogs, other non-Hipgnosis companies are also being invited to make bids for the same portfolio.
Those bids are enabled by a 'go-shop' clause in the HSF/HSC proposal that allows the HSF board to consider these non-Hipgnosis approaches for a limited period (until 11.59pm on October 23, to be precise).
Today (September 28), HSF informed its investors that "credible third parties are already engaged in this go-shop process" following its announcement on September 14.
As we've previously reported, there are potential obstacles in the way of these third parties' bids. These include the fact that HSM (on behalf of HSC) has a 'matching right', meaning that if HSC decides to match the higher bid of a rival, HSF has to sell the catalogs to it – rather than the rival.
In addition, any 'superior' offer would have to exceed the aggregate cash net proceeds that would ultimately reach HSF's coffers should HSC's $440 million offer be executed. (Read more about this condition through here.)
Still, it's a theoretical possibility that a non-Hipgnosis company swoops for the 29 catalogs from HSF, and gazumps HSC in the bidding process.
If a 'superior proposal' (versus the $440 million offer from HSC) is received during the 'go-shop' period, said HSF today – whether or not HSC uses its 'matching right' to beat it – it may be necessary to adjourn the HSF AGM (and therefore the 2023 'continuation vote') into November.
---
In its note to shareholders today, the HSF board reiterated its belief – and Hipgnosis Song Management's belief – that HSF owns "a unique portfolio of iconic, culturally significant songs that will deliver strong long-term value as they benefit from the structural tailwinds in the music industry".
The note added: "Furthermore, the [HSF] Board believes that the Investment Adviser's approach to Song Management should enable the Company to outperform the wider music market. This has been evidenced by the 44% total return, including right to income, transaction fees and expected taxes, realised since acquisition on the [$440 million] Transaction.
"Furthermore, the Board and the Investment Adviser are committed to ensuring that this value is achieved for shareholders by a re-rating of the share price and are determined to deliver on the ongoing opportunity of the Company."Music Business Worldwide