Live Nation scraps artist merch fees at its US club venues
The practice of music venues taking a cut of merch profits at live shows has been a matter of contention amongst touring acts for a long time.
Now, concert giant Live Nation has announced that its US clubs will stop taking a percentage of artists' merch stand sales, "so artists keep 100% of merch profits for each show".
The move is part of a wider program called "On the Road Again", which is currently being rolled out with legendary artist Willie Nelson to support developing artists and crew at the club level.
Live Nation hasn't set an end date for the program and the company says that all benefits from On the Road Again "are being provided directly from the venue's existing earnings, with no increases to consumers."
A full list of participating venues can be seen on the program's official website.
The program will also see Live Nation pay acts playing at its participating clubs an extra $1,500 per show to cover fuel and travel expenses on top of what those artists receive in compensation for their performance.
That $1,500 stipend will be paid to all headliners and openers at those clubs.
Live Nation said in a statement on Tuesday (September 26) that "touring is a crucial part of an artist's livelihood, and we understand travel costs take one of the biggest bites out of artists' nightly profits".
It added: "By helping with these core expenses, we aim to make it easier for artists on the road so they can keep performing to their fans in more cities across the country."
---
---
The support offered via the program also extends beyond artists, with Live Nation pledging to provide "financial bonuses to local promoters that help execute at shows, tour reps that live life on a bus, as well as venue crew members that have worked over 500 hours in 2023".
On the Road Again is also donating $5 million to Live Nation's Crew Nation relief fund to support crew across the industry "facing unforeseen hardship".
Via these initiatives, Live Nation says that through the end of the year, the On The Road Again program is "expected to deliver tens of millions of dollars in extra earnings to club artists and crew".
---
Live Nation has seen booming revenues over the past couple of years following the return of live music after the pandemic.,
According to the firm's Q2 earnings report, its revenue grew 27% YoY to USD $5.6 billion.
Revenues from its concerts division came in at $4.63 billion, up 28% YoY on a constant currency basis.
Ticketing (i.e. Ticketmaster) brought in $709.3 million, up 23% YoY, while sponsorships and advertising brought in $302.9 million, up 13% YoY.
In FY 2022, Live Nation generated revenues of $16.7 billion, according to its financial results for the quarter and full year ended December 31, 2022 (see below).
---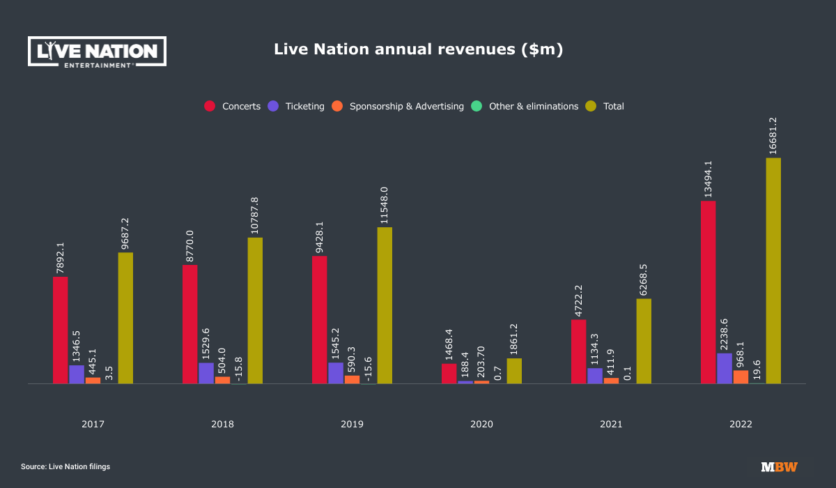 ---
Commenting on the new program, Michael Rapino, President and CEO of Live Nation Entertainment, said: "Delivering for live artists is always our core mission."
Credit: Live Nation/press

"Delivering for live artists is always our core mission."

Michael Rapino, Live Nation Entertainment
Added Rapino: "The live music industry is continuing to grow and as it does, we want to do everything we can to support artists at all levels on their touring journey, especially the developing artists in clubs.
"Like Willie says, this is all about making it a little easier for thousands of artists to continue doing what they love: going out and playing for their fans."
 Music Business Worldwide