Local artists' market share is rising on music services, and 3 other things we learned from Denis Ladegaillerie on Believe's latest earnings call
There's arguably been no bigger talking point in the music business this year than AI.
While some observers have raised concerns about what the technology means for artists, songwriters and rightsholders, in the view of Believe's CEO, Denis Ladegaillerie, "generative AI will have a strong positive impact" for the music industry, and "particularly for Believe".
Ladegaillerie's comments arrived alongside the Paris-headquartered music company's financial results for the first half of 2023, published on Wednesday (August 2), in which it reported revenues of EUR €415.4 million for the first six months of 2023, up 17.9% YoY.
Within its H1 earnings release, the company offered a detailed look at the benefits it expects to be gained from the rapid development of AI.
According to Believe, AI will have the following impact:
"Generative AI and AI will impact in a positive manner Believe's relationships with artists and labels, the way the Group partners with digital music services and how it manages its end-to-end digital operations;
"Generative AI will empower every artist to create greater high-quality music while AI-based marketing will give every artist a chance to better target audience; as a result, the Group expects continued fragmentation to play to Believe strengths;
"AI and Generative AI will allow for greater efficiency gains and opportunities to raise long term margins leveraging Believe's Central Platform solutions through accelerated automation."
The company notes that in H1 2023, it developed "AI-enabled discovery solutions, explored partnerships with several leading digital service providers around generative AI and explored investments on core internal AI and Generative AI use cases".
During the company's earnings call, Ladegaillerie elaborated on Believe's investment in AI, and offered an insight into the company's global strategy.
AI wasn't the only topic discussed during the company's earnings call on Wednesday, however, with Ladegaillerie and Chief Financial and Strategy Officer Xavier Dumont grilled by analysts about the company's finances. We listened in. Here are four things that stood out…
---
1. AI will let 'developing artists compete faster in the mid-level market…"
Denis Ladegaillerie told analysts on the earnings call that Believe had a "high focus" in H1 2023 around "innovating and building [the company's] engagement principles around artificial intelligence".
He explained further that "artificial intelligence is going to have a major impact in three dimensions" on its business, namely in terms of creativity, discovery and efficiency.
On the first point, Ladegaillerie argued that generative AI "will empower every artist to make high-quality music".
Referring specifically to artists distributing through the company's DIY distribution subsidiary TuneCore (referred to as 'Automated Solutions' in its results), he said:  "For our automated solutions, [AI] technology will rapidly be available to elevate the quality of the music that is being produced".
He added that this will allow "younger, developing artists to compete faster in the mid-level market segments and towards the top with higher quality music and accelerate their learning curve to improve their craft".
"AI will empower every artist to make high-quality music."

Denis Ladegaillerie
On the second point, discovery, Ladegaillerie noted that a large part of discovery is already currently being carried out by algorithm-based recommendation across music services".
He added that, "for several years now," Believe has been building machine learning models to be able to optimize the marketing and promotion of our artists of their tracks on various digital music services to help them expand market share and new services.
And on the point of efficiency, Ladegaillerie claimed that "AI [has the potential] to improve our business, from deal making to marketing campaigns to efficiency in our supply chain. We're engaging on all of these topics internally".
He added: "In parallel to this, we think it is our responsibility to [have a] a very responsible approach [to AI] and we spent a large part of the first half of the year building our engagement rules around four principles, [which are] consent, control, compensation and transparency."
---
2. 'The market share of local artists is increasing on all music services'.
Last month on the MBW Podcast, Will Page, the ex-Chief Economist of both Spotify and UK collection society PRS For Music, spoke about the 'Glocalization' of music. This concept is centered around the theory that as an industry, music is more global than ever, but when you zoom in on many individual markets around the world, their most-popular artists and charting tracks are becoming increasingly localized.
Page outlined this theory in a paper he co-authored and published by the London School of Economics and Political Science.
The shift to local-language music dominance in local markets was also highlighted in Luminate's mid-year music report.
On the call with analysts on Wednesday, Ladegaillerie shed more light on this trend. According to Ladegaillerie, "data is showing [Believe] that the market share of local artists is increasing on all digital music services".
That rise in homegrown artists' share of streams isn't just happening on Spotify, Ladegaillerie explained, but also "on YouTube and other services".
In response to this trend, Ladegaillerie explained that Believe is "continuing to invest in developing local artists in markets across a wide range of genres of music".
---
3. Paid streaming users in SouthEast Asia are expected to quadruple by 2030
We've previously written about Believe's M&A activities in Southeast Asia, where the company has acquired stakes in labels such as Philippines-based Viva Music and Artists Group (VMAG).
The company's leadership noted on the call with analysts that Believe is celebrating its tenth anniversary of operating in Southeast Asia this year, and that the region continues to be a key location for investment for Believe.
Speaking with investors, Ladegaillerie said that in Southeast Asia, the company has grown from having "no presence 10 years ago" to being in a "leadership position that is already at scale" today.
Ladegaillerie explained: "With a leadership position in most local markets [in Southeast Asia] … we are continuing to invest significantly on all aspects of our business premium services as well as developing automated solutions there."
Believe breaks down its global operations into two divisions:
(i) DIY distributor TuneCore (referred to as 'Automated Solutions' in its results); as well as
(ii) The performance of its core premium label and artist services operation (referred to as 'Premium Solutions')
---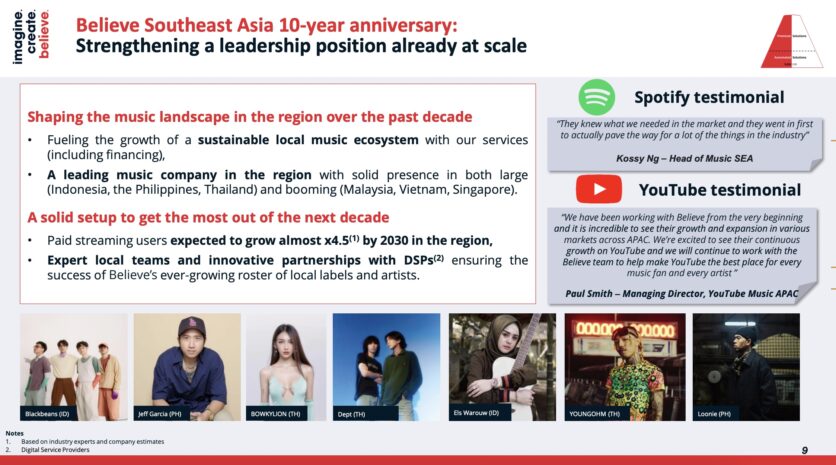 ---
Looking to the future of Believe's operations in the region, Ladegaillerie told analysts that his company "expect[s] these markets to grow very significantly" and that the wider Southeast Asia region "remains one of the key investment themes for [Believe]".
He added: "Despite the currency headwinds that we mentioned earlier, [we] expect these markets to grow 4.5 times by 2030."
---
4. Believe is allocating 'more cash to advances to capture high-level opportunities and high return opportunities'.
Ladegaillerie noted on the call with analysts that Believe is allocating "more cash to advances to capture high-level opportunities and high return opportunities".
According to the company's H1 report,  Believe's net amount of unrecouped advances to artists was €256.672 million (see below) for the six months ended June 30, 2023. It was €178.487 million at the end of December 31, 2022.
(Believe noted in its financial statement for FY 2022 that advances are split between a current portion – i.e. the portion that the company expects to recoup within 12 months of the reporting date, and a non-current portion.)
Believe says in its H1 2022 report that, "customer advances continued to grow at a faster pace than in H1 [2022], driven by the renewal of several major labels under longer‐term contracts than usual".
---

---
Commenting further on the company's advances with artists and labels in H1, CFO Xavier Dumont told analysts that Believe, "signed significant attractive opportunities to sign or renew deals with labels and top artists at much better conditions like duration or margins, leading to a higher level of advances and thus, negative free cash flow for H1 at minus €32.9 million".
Dumont was asked during the Q&A session to elaborate on the company's advances during H1, and he noted that some labels or artists had signed longer deals with the company in exchange for larger advances.
Dumont explained: "Negotiation usually starts [at] end of Q1, beginning of Q2. Then you get a few weeks of negotiation before striking the deal."
He added: "The way it works is that a label will come and see you and say I want a big advance to which you are going to [say], yes, if you want a big advance, you need to sign for a longer period.
"Usually, there is a balance between the duration of the contract and the level of advances. Several of those conversations that started [in the] same way ended with the label or the artist accepting [a] much larger duration in [their] contracts and also higher gross margin for us.
"[This] was a factor of, I suppose, the economic environment that makes it a bit less easy for them to [get access to] finance.
Dumont argued that due to Believe's "positioning and quality of service" labels and artists "are willing to engage [in] a longer [contract duration] because they are more confident about the fact that Believe will deliver a very good service in the long term for them".Music Business Worldwide