Major record companies issue statements condemning terrorist attacks in Israel
The three major recording companies and the Recording Academy have issued statements condemning the atrocious attacks by the Palestinian militant group Hamas in Israel over the weekend.
In a statement issued via social media, Universal Music Group wrote: "There are no words strong enough to adequately condemn the barbaric acts committed by Hamas terrorists in Israel last weekend.
"Tragically we recognize that these terrorist attacks will cause violence and hate to spiral with the rise of both Israeli and Palestinian civilian casualties and the anti-Semitism and other forms of bigotry that will inevitably follow."
UMG's statement added: "We are music people. Through music we help bring to the world, we enable people of every background to grasp their shared humanity. We must therefore promote and encourage tolerance, empathy and understanding, an effort that begins at home and in the workplace."
---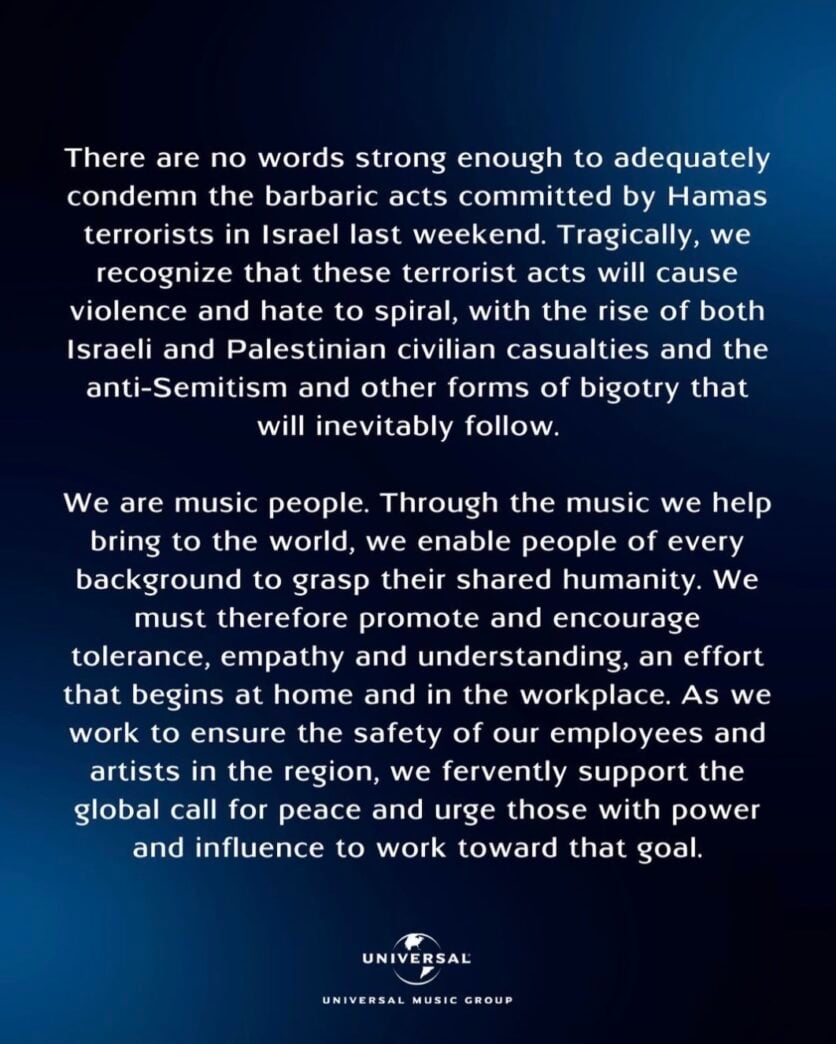 ---
UMG's statement continued: "As we work to ensure the safety of our employees and artists in the region we fervently support the global call for peace and urged those with power and influence to work toward that goal."
Meanwhile, in its own statement issued via social media (see below), Sony Music Group said that it has "held support sessions" for its teams around the world "with anti-hate and counseling organizations to reflect on the horrific terrorist attacks by Hamas in Israel".
---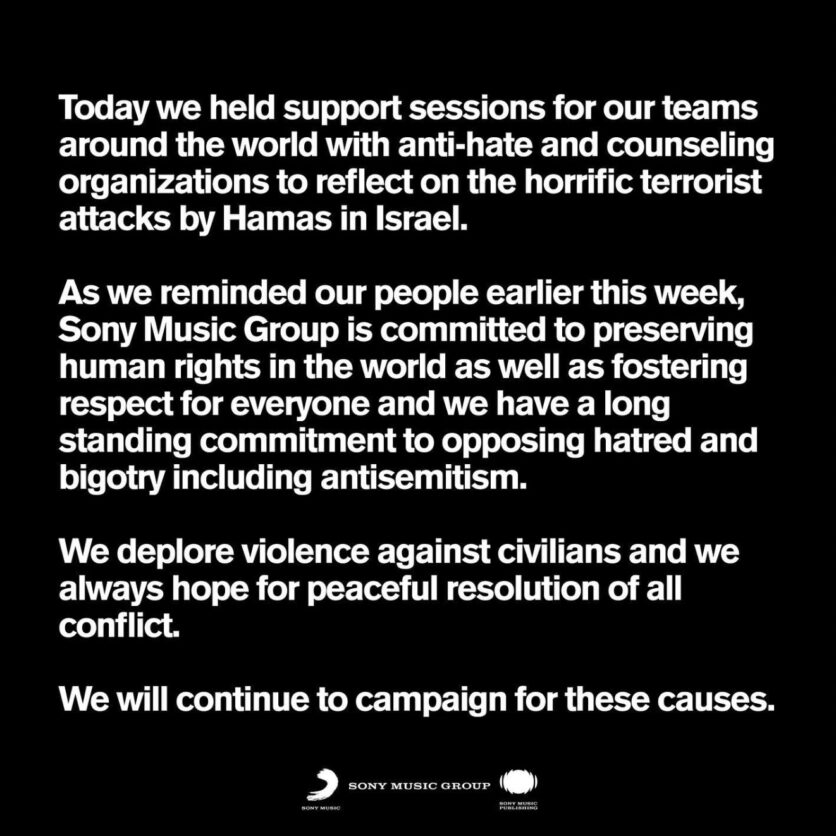 ---
Sony's statement continued: "As we reminded our people earlier this week, Sony Music Group is committed to preserving human rights in the world as well as fostering respect for everyone and we have a long-standing commitment to opposing hatred and bigotry including anti-Semitism.
"We deplore violence against civilians and we always hope for peaceful resolution of all conflict we will continue to campaign for these causes."
In its own statement, posted on X (formerly Twitter) Warner Music Group wrote : "We condemn the terrorist attack on Israel by Hamas and the massacre of innocent lives we oppose antisemitism and we stand with Israel and the Jewish community around the world."
The statement added: "We are against all forms of discrimination and racism we wish peace for all people."
WMG also posted links to various "humanitarian organizations providing aid and relief" (see below).
---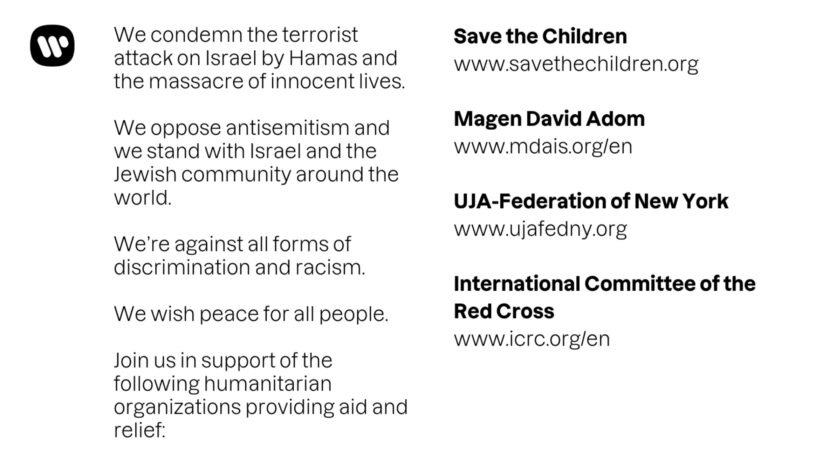 ---
The Recording Academy also posted a message on social media condemning the attacks in Israel.
"As we see the violence continue we struggle to find the right words," read the Recording Academy's statement.
---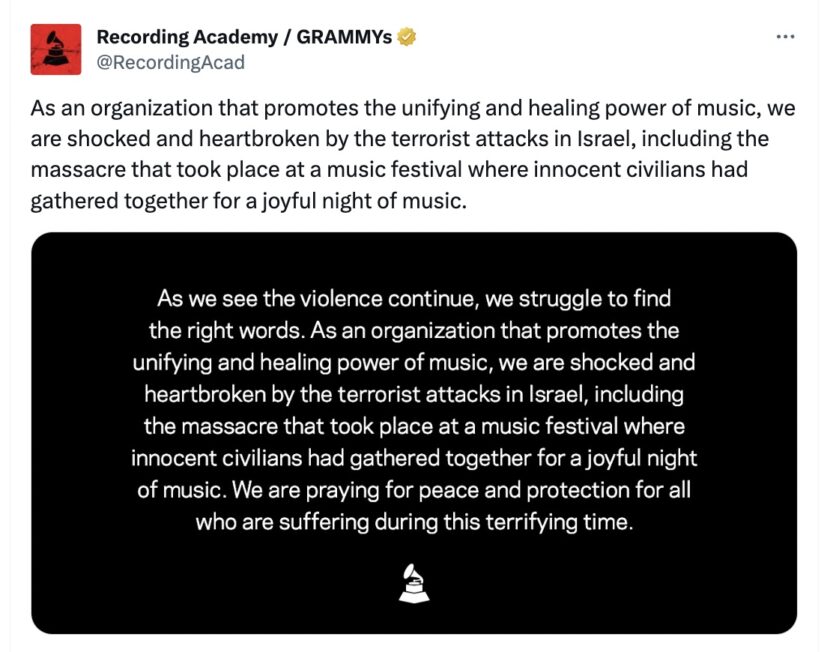 ---
The statement added: "As an organization that promotes the unifying and healing power of music, we are shocked and heartbroken by the terrorist attacks in Israel including the massacre that took place at a music festival where innocent civilians had gathered together for a joyful night of music. We are praying for peace and protection for all who are suffering during this terrifying time."Music Business Worldwide