More music streaming price rises – now!
MBW Reacts is a series of analytical commentaries from Music Business Worldwide written in response to major recent entertainment events or news stories. MBW Reacts is supported by JKBX, a technology platform that offers consumers access to music royalties as an asset class.
---
Music rightsholders waited more than a decade for streaming price rises. Now, finally, the train has left the station.
In July, Spotify announced that it was bumping up its standard individual Premium prices by 10% in the US – and by varying amounts in 52 other markets.
That followed a similar US price hike by YouTube Music in the same month, and another from Amazon Music in January.
Meanwhile, two other prominent music streamers – Apple Music and Deezer – both pushed up their standard individual US prices in October last year, from $9.99 to $10.99 per month.
Doesn't time fly?
Those October 2022 streamer price rises are now very close to being a full year old.
In MBW's view, with inflation still snapping at the industry's value, more, repeated streaming price rises are already becoming inevitable.
Not only that, but we expect them to arrive sooner rather than later.
Here's why.
voices are growing louder…
Part of the reason MBW's expects further streaming prices rises are coming – even as soon as Q4 this year – is because music's leaders have started loudly and specifically calling for just that.
One prime example: Robert Kyncl, CEO of Warner Music Group (WMG).
Since Kyncl joined WMG in January, he has publicly mentioned his desire for streaming prices to rise (and rise and rise) multiple times.
In May, on WMG's Q2 earnings call, Kyncl said: "Recent price increases have been successful and are a move in the right direction, but they should be just the first step."
Credit: Warner/press

"We believe the market will bear further [streaming] price increases in the future, and we're expecting that they'll arrive on a more regular cadence than in the past."

Robert Kyncl, Warner Music Group, August 2023
Kyncl then doubled down on this point on Warner's Q3 2023 earnings call in August.
Having praised the likes of Spotify, Apple, Amazon, Deezer, and TIDAL for upping their prices, Kyncl said: "We see these initial price increases as an encouraging start. There is no evidence that the services are experiencing elevated levels of churn.
"We believe the market will bear further price increases in the future, and we're expecting that they'll arrive on a more regular cadence than in the past."
Others indicating their wishes for the same outcome have included Kyncl's two fellow major music company bosses – Rob Stringer at Sony Music Group, and Sir Lucian Grainge at Universal Music Group – as well as Bill Ackman, shareholder of Universal Music Group via Pershing Square Holdings.
Credit: Kristoffer Tripplaar / Alamy

"We believe that breaking the $10 barrier is a watershed moment, as other platforms will likely follow suit, and regular price increases will become the norm in the audio streaming industry as they are in the video streaming industry."

Bill Ackman / Pershing Square, March 2023
As far back as March 2023, Ackman celebrated the recent price rises at Apple Music and Amazon Music etc. by noting in a Pershing Square investor update: "We believe that breaking the $10 barrier is a watershed moment, as other platforms will likely follow suit, and regular price increases will become the norm in the audio streaming industry as they are in the video streaming industry."
Also, don't forget that in June, Goldman Sachs predicted that average streaming subscription prices in developed markets like the US would grow, on average, by 3% per year in the medium-term future.
Now, the rest of us can see hard evidence of why major players in music think the market can bear further price rises – and soon – thanks to the latest stats from the Recording Industry Association of America (RIAA).
After the price rises, premium ARPU jumped in the US – without a decline in subscribers. (Also, new subs are getting harder to come by…)
The positive impact on Premium streaming ARPU from a number of the aforementioned price rises in the US market (namely: Apple Music, Amazon Music, Deezer, and an October 2022 rise in Family Plan pricing on YouTube Music) was very apparent in the H1 2023 figures from the RIAA, as issued earlier this week.
What was also apparent, however, was the reason major music companies may now grow even less patient to see additional price rises in the US: A slowdown in the growth of subscription volumes.
In H1 2023, on average, there were 95.8 million subscribers to full 'paid' subscription services in the United States, according to the RIAA.
That number, though, was up by just +5.8 million subscribers year-on-year (versus the equivalent period in 2022).
And that +5.8m figure, in turn, was significantly smaller than the YoY growth we've seen in the United States in recent years (see red bars below).
---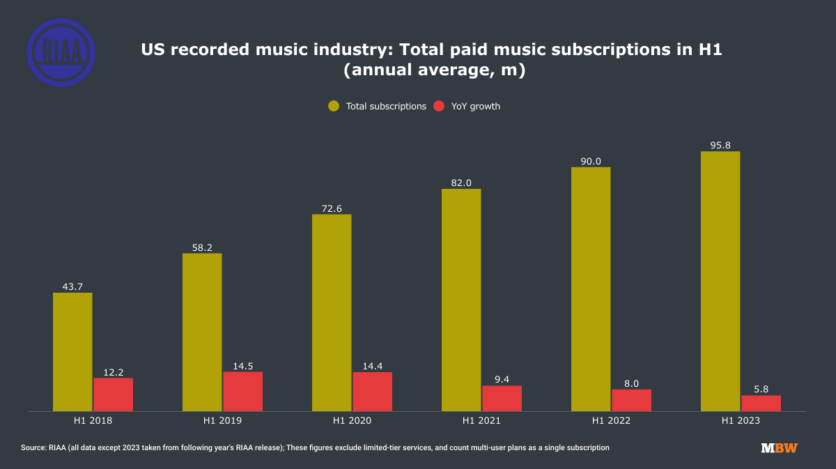 ---
Conclusion?
There can now be no doubt – judging by the chart above – that an inevitable decline in the number of new music subscribers available in the United States is underway.
For that reason, the industry's attention will now surely switch more readily to improving the ARPPU (Average Revenue Per Premium User) of the existing subscribers it already counts in the world's biggest music market.
And the most effective way to bump that ARPPU figure is, of course… price rises.
---
Indeed, this scenario is already playing out in the US.
The RIAA's latest figures might have shown a decline in YoY streaming subscriber volume growth in the US – but they actually showed an acceleration in the amount of money being generated for the recorded music business by 'paid' streaming subs.
Not including 'limited-tier' services, the trade revenue from Premium streaming services in the US in H1 2023 hit USD $4.973 billion, up by $548.9 million YoY.
In the equivalent year-ago period (H1 2022), those same Premium streaming revenues were up by just $304.3 million YoY.
---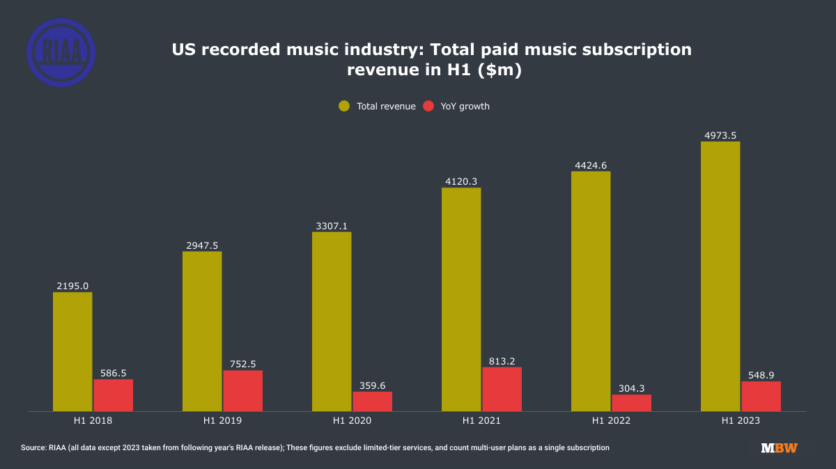 ---
The biggest factor in this improved growth will have been an increase in streaming prices at Apple Music, Amazon Music et al that boosted the H1 2023 'Paid' subscription revenue numbers.
To see precisely how valuable this was to the music industry, below MBW has figured out how the RIAA's H1 'Paid' streaming figures worked out as a monthly ARPPU.
(The chart beneath shows the result of dividing the RIAA's H1 figure for 'paid' streaming revenue by its average H1 subscriber volume figure – and then dividing again by six months.)
---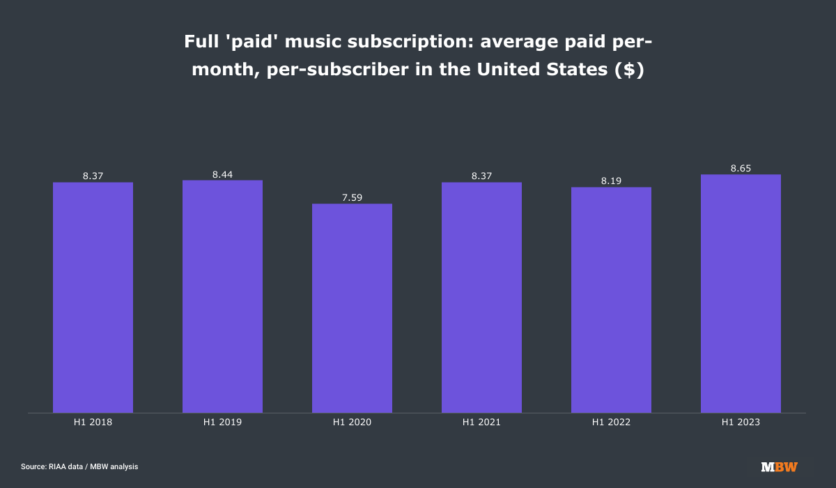 ---
Note that the average monthly ARPPU of a US 'paid' streaming subscriber rose by 46 Cents per head YoY in H1 2023 (to $8.65) – and these numbers weren't even boosted by Spotify's price rise (which came in July 2023, aka H2 2023).
(If the numbers in the chart above seem high, remember that the RIAA's 'Paid' subscriber volume figure counts multi-user plans as a single subscription. So a $16.99 Apple Music family plan, for example, would count as one sub.)
Does a 46 Cent rise in monthly ARPPU seem like small potatoes to you?
Then we humbly suggest you do the math: Across 95.8 million subscribers, that 46 Cents per month bump equates to an industry-wide boost of $44 million per month… or $528.8 million per year, for streaming trade revenue.
Music rightsholders everywhere are going to want to see more and more ARPPU bumps like that they enjoyed in H1 2023 – and that means more streaming price rises.
Don't expect to wait too long for them to get what they're demanding.
---

JKBX (pronounced "Jukebox") unlocks shared value from things people love by offering consumers access to music as an asset class — it calls them Royalty Shares. In short: JKBX makes it possible for you to invest in music the same way you invest in stocks and other securities.Music Business Worldwide