Queen shows no sign of fading into history as band's earnings jump 4.3% to $50m in 2022
British rockers Queen saw a serious spike in their earnings in recent years, owing in no small part to the success of the Oscar-winning 2018 biopic Bohemian Rhapsody.
Nearly half a decade down the road from that movie's release, one would think the band's earnings would be dropping back down again. Not so.
The latest annual report from Queen Productions Ltd. –  the UK-based company that collects the band's turnover – shows that in the fiscal year ending September 30, 2022, the band took in £40.89 million (USD $50.41m at average annual exchange rates as per the IRS).
That's an increase of 4.3% from FY 2021, when turnover came in at £39.19 million. (In US dollar terms, that comes to $53.9 million, as the British pound was stronger against the dollar that year.)
---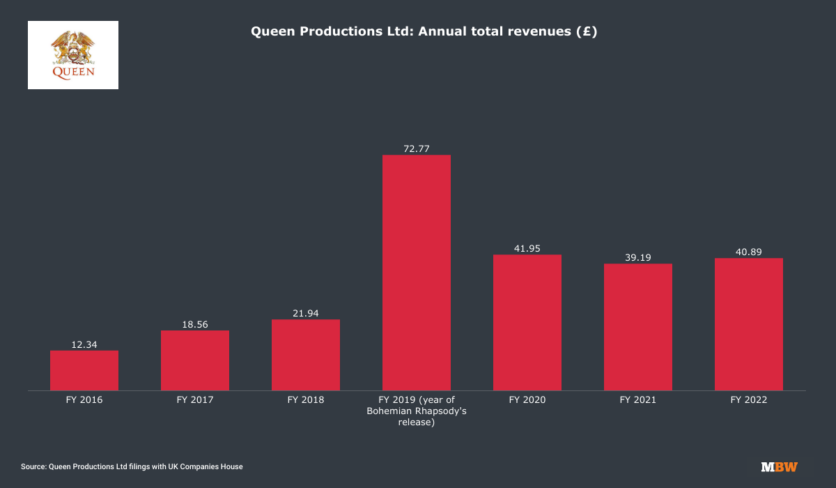 ---
The new numbers, available publicly on the UK's Company's House, give the band a significant financial shot in the arm as it reportedly prepares to sell its recording and publishing rights for what could be a record-breaking sum above $1 billion.
Queen Productions is owned in equal parts by the three living members of Queen – Brian May, Roger Taylor and John Deacon – as well as the estate of Freddie Mercury.
The company owns the band's master recordings outside the US and Canada (where they are owned by Disney Music Group), and licenses them worldwide to Universal Music Group (UMG) as its distributor and record company partner.
The band's publishing rights are owned by another entity, Queen Music Ltd., and are administered by Sony Music Publishing. Queen Music's financial statements suggest its income is being paid through to Queen Productions.
The band's royalties did drop a little in the latest reported fiscal year, to £36.84 million, from £38.92 million the previous fiscal year, a decline of 5.3%. But overall turnover was still higher in the latest fiscal year, thanks to "the success of the We Will Rock You theater production UK tour as well as an increase in license fees on live music touring," the company's report stated.
The company's profit before tax came in at £22.16 million ($27.41 million), up 31.6% YoY, from £16.84 million ($23.17 million) in FY 2021.
---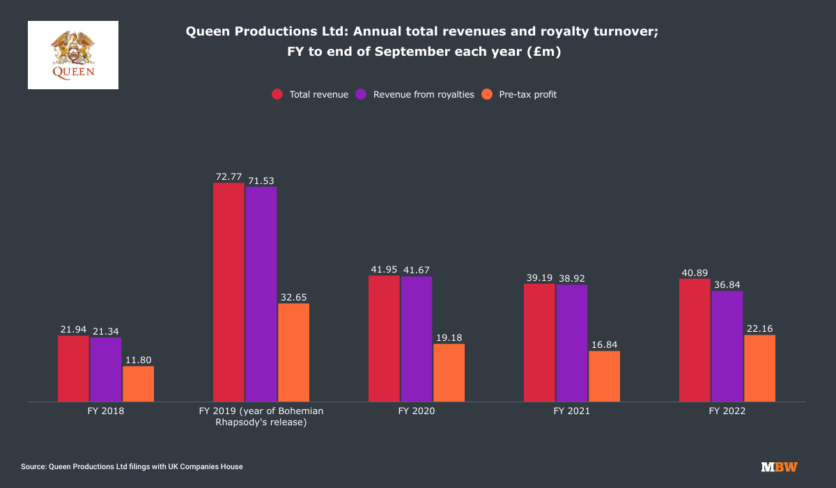 ---
The numbers indicate that the boost in Queen's popularity from Bohemian Rhapsody seems to be having a very long tail indeed.
The company's turnover in FY2022 was more than triple the number in FY2016, before buzz began around the Bohemian Rhapsody movie. That year, the company's turnover came in at £12.34 million ($16.72 million at 2016 exchange rates).
The numbers are so strong that Queen Productions' directors – the three surviving members of the band – seem to have changed their tune on the company's outlook.
In the report for FY2021, they predicted that, with the Bohemian Rhapsody biopic fading into history, income is "expected to decrease year on year."
However, in the latest report, they state: "Given the success of Bohemian Rhapsody and We Will Rock You in recent years, it is anticipated the company will generate similar income in the year ended 30 September 2023 and in the years thereafter."
Simply put, Queen is here to stay.
As of July 2023, the band was the 49th most popular musical act on Spotify, down from 44th spot a year earlier. But thanks to there being more people streaming on Spotify overall, the number of monthly Queen listeners is actually higher today than a year ago – 48.45 million listeners, up from 40.3 million.
A few years ago, MBW estimated that a sale of Queen's catalog could bring in around $1.1 billion. Earlier this year, sources told MBW that Queen's catalog could sell this year for just about that amount, though other sources suggested the number could be even higher.
Such a sale would easily surpass the record-setting $500 million-plus that Sony Music/Columbia and Sony Music Publishing paid for the recording and publishing rights to Bruce Springsteen's entire catalog in 2021.
As of May of this year, the initial stages of a sale process were underway, involving both music publishing and recorded music rights. Major music companies including UMG, as well as private equity groups, have been in discussions regarding the sale.
Bohemian Rhapsody holds the record for highest-grossing biopic of all time, with a worldwide gross of $910.8 million. A sale of Queen's music rights could put another all-time record under the belt of a band that – 53 years after its formation and 32 years after the tragic death of its frontman – seems to be as popular as ever.
---
All GBP to USD conversions have been made at the average annual exchange rates as published by the IRS.Music Business Worldwide