Scooter Braun wanted to sell Taylor Swift her masters. What happened?
Last Wednesday (June 14), Music Business Worldwide dove deep into the ill-tempered saga of Taylor Swift's 'Big Machine' masters being sold – first to Scooter Braun's Ithaca Holdings in June 2019, and then to US-based financial firm Shamrock Capital in October 2020.
In our 4,000-word investigation into these deals, we uncovered some major revelations, including:
Scott Swift, Taylor Swift's father and a Merill Lynch stockbroker, received a USD $15.1 million payout from the sale of Big Machine Label Group (BMLG) to Scooter Braun's Ithaca Holdings in summer 2019, thanks to Mr. Swift's ~5% shareholding in Big Machine Records LLC;
Scooter Braun is almost certainly now a billionaire, who made a $265 million profit on his purchase and subsequent sale of Swift's first six albums. (Braun's team valued the Swift catalog at $140 million when purchasing Big Machine Label Group in 2019; Braun then sold Swift's masters to Shamrock in 2020 for a total consideration of $405 million).
Perhaps the biggest discovery in MBW's in-depth report, however, was this:
In November 2019, Jay Schaudies from Swift's management firm, 13 Management, co-signed an NDA with Scooter Braun – representing Ithaca Holdings – that granted Swift's team the opportunity to dig into the financials of Big Machine, presumably with a view to Swift acquiring her masters back from Braun.
MBW obtained this signed five-page NDA in full, which contained no mention of reputational protections for Scooter Braun.
This was confusing, as a year later, in November 2020, Taylor Swift publicly alleged: "Scooter's team wanted me to sign an ironclad NDA stating I would never say another word about Scooter Braun unless it was positive, before we could even look at the financial records of BMLG."
Now, MBW has obtained more startling evidence in this saga.
It shows just how close Scooter Braun and Ithaca came to selling Swift the rights to her first six albums – and how a potential deal fell apart…
Exhibit A: The Jay Schaudies email to Scooter Braun, May 15, 2020
MBW has obtained a revelatory email from 13 Management's Jay Schaudies sent to Scooter Braun in mid-May, 2020.
Context: This was 11 months since Braun's Ithaca Holdings had bought the masters to Swift's first six albums (via Big Machine) – and since Swift had first publicly voiced her upset about that deal.
Importantly, this was also five months before Braun/Ithaca then sold Swift's 'Big Machine' masters to US financial firm, Shamrock Capital, in October 2020.
Ergo, there was still time for Scooter Braun to do what Taylor Swift fans wanted, and sell the artist 'back' her Big Machine masters.
Guess what? That's exactly what Braun was open to doing – and was even keen to do – according to Schaudies' May 2020 email.
"You have told me and others, such as Ed Sheeran, that you'd like to see Taylor own these, and I appreciate any efforts on your part to help make that happen."

Jay Schaudies email to Scooter Braun, May 2020
"We last spoke on May 5 when you asked me to call you after I emailed you saying that we were still interested in purchasing all of the Taylor Swift assets and rights held by BMLG," reads Schaudies' email to Braun.
"You said you were not interested in selling BMLG as a whole, but that you were interested in selling Taylor her masters. You have told me and others, such as Ed Sheeran, that you'd like to see Taylor own these, and I appreciate any efforts on your part to help make that happen."
This is the first solid public evidence that Scooter Braun, having acquired the masters of Swift's first six albums, subsequently planned to sell them back to the artist.
---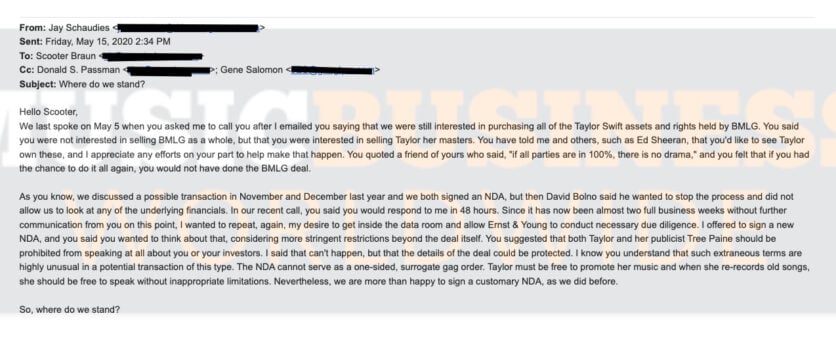 ---
There was a second section in Shaudies' email, however, that returns us to a now-familiar can of worms: The alleged "ironclad NDA" clause that, in the words of Swift, would force her to "never say another word about Scooter Braun unless it was positive, before we could even look at the financial records of BMLG".
As a reminder, MBW has possession of a mutually-signed November 2019 NDA between 13 Management and Ithaca under which Ithaca committed to handing to 13 Management "all non-public, proprietary business information" about its company (and Big Machine) "regarding a Possible Transaction".
---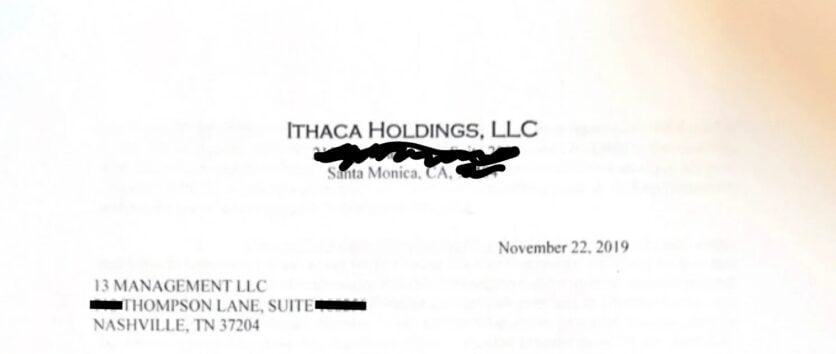 ---
So what have we learned since publishing our story last week?
Months after the mutual signing of that November 2019 NDA, as we moved into spring/summer 2020, Ithaca and 13 Management began a back-and-forth on an entirely new NDA.
Once again, this NDA clearly facilitated a negotiation for Swift/13 Management to purchase her 'Big Machine' masters from Ithaca.
And it's one particular clause within this subsequent NDA that appears to have left Swift, and Jay Schaudies at 13 Management, displeased regarding potential restrictions over the artist's freedom to speak publicly.
In his email to Braun in May 2020, Schaudies wrote: "I offered to sign a new NDA, and you said you wanted to think about that, considering more stringent restrictions beyond the deal itself. You suggested that both Taylor and her publicist Tree Paine should be prohibited from speaking at all about you or your investors. I said that can't happen, but that the details of the deal could be protected."
Added Schaudies: "The NDA cannot serve as a one-sided, surrogate gag order. Taylor must be free to promote her music and when she re-records old songs, she should be free to speak without inappropriate limitations. Nevertheless, we are more than happy to sign a customary NDA, as we did before [in November 2019]."
Here's where things get a bit… bumpy.
During spring/summer 2020, Ithaca Holdings and 13 Management went back and forth on draft versions of a new negotiation-starting NDA.
MBW has obtained a draft version of this NDA from June 2020. It was sent from a legal rep for Ithaca Holdings to Jay Schaudies at 13 Management on June 29, 2020, according to emails seen by MBW.
Ithaca Holdings, in the communications we've seen, was willing to sign this June 2020 NDA.
As for whether its content constituted, in Schaudies' words, a "one-sided gag order"?
Judge for yourself.
---
Exhibit B: The new draft NDA – sent by Ithaca to 13 Management on June 29, 2020
MBW has read cover-to-cover the June 2020 draft NDA sent by reps for Ithaca to 13 Management for approval.
Only Ithaca and 13 Management are named as 'Parties' in this draft agreement.
Scooter Braun is not a named as a Party, nor is Taylor Swift – though the document makes clear that 13 Management is "acting expressly on behalf and as the authorized agent for Taylor Swift". (Swift is referred to throughout the NDA, as legal shorthand, as the 'Artist'.)
The seven-page document contains only one section – Clause 4 – that clearly attempts to restrict what each Party in the deal can say about one another publicly.
However, this clause only appears to restrict what can be said about details of the deal negotiation itself – rather than any individuals involved.
Here is the full text of the relevant NDA clause (Clause 4), with MBW's bolding on the important segments:
---
4. No Disclosures Of Any Kind About Discussions. Each Party and Artist agrees that, without the prior written consent of the other Party, no Party, no Party's Representative, and neither Artist nor Artist's Representatives, may disclose, reveal, divulge, provide, comment on, characterize, opine on, or suggest to any person or entity (whether directly or indirectly) any of the following:
(a) The existence of this Agreement;
(b) the existence of, substance of, and/or full or partial details about any Discussion Information (and any aspect of it), including the substance or existence of any proposals or valuations;
(c) the existence of, substance of, and/or full or partial details about any Possible Transaction; or
(d) the contents or substance of any Evaluation Material and the fact that any Party or its Representatives have received or provided Evaluation Material.
Any information required to be treated as confidential under this Agreement shall be referred to as "Confidential Information."
The terms "Disclose," "Disclosed," or "Disclosure" shall mean to reveal, divulge, give, comment on, characterize, opine about, or make available Materials, or any part thereof, or any information contained therein, to any person or entity or to the public at large, including via social media posts (e.g. Twitter, Instagram, or other platforms) or by providing information to members of the news media (whether on background or as an anonymous source).
---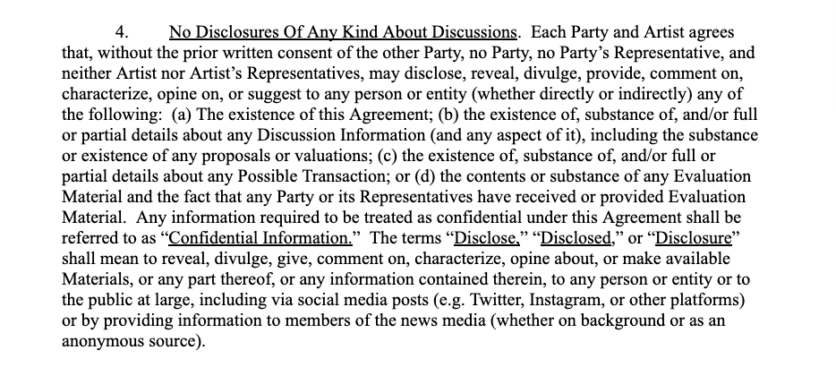 ---
That's it – the whole clause.
To MBW's understanding, the clause appears to amount to this: if Ithaca wanted to generally criticize Taylor Swift publicly – or if Swift wanted to generally criticize Ithaca or indeed Scooter Braun publicly – they would presumably be free to do so.
However, if either party publicly disclosed and/or criticized: (a) any deal proposals/valuations discussed between Ithaca and 13 Management; or (b) the 'Evaluation Materials' – "all non-public, proprietary business information regarding a possible transaction" – then they would clearly be in breach of the NDA.
What happened next?
To a degree (as we pointed out in our previous article on this topic) we can kind of skip to the end here: whatever happened between Ithaca Holdings and 13 Management following the above NDA proposal in June 2020, we know – by nature of Shamrock's acquisition of Swift's masters five months later – that a deal obviously wasn't agreed.
However, MBW does have some important extra detail to bring to the table.
We've seen an email from Jay Schaudies in response to that June 2020 NDA suggested by Ithaca – sent a month later on July 29 – noting Schaudies' concern that the "proposed NDA… still feels like an attempt to muzzle Taylor".
We've also seen an email from a legal rep for Ithaca sent to Schaudies on August 25, 2020, which states that "after discussing internally, we feel like we can move forward on the prior form" – i.e. Ithaca was willing to scrap the June 2020 NDA, and go back to that original, mutually signed, November 2019 NDA.
Most importantly, a senior ex-employee of Ithaca – who was directly involved in the deal negotiations – claims that two "hard offers" were made verbally by Scooter Braun to Jay Schaudies/13 Management on two separate occasions:
The first offer came in mid-November 2019, in response to Taylor Swift's public outcry related to her 'Big Machine' masters and that year's American Music Awards (AMAs). A week before the AMAs event, says our source, Scooter Braun told 13 Management that Ithaca was willing to sell the masters of Taylor Swift's six 'Big Machine' albums to 13 Management / the artist for USD $300 million. Braun also told 13 Management that Ithaca had secured pre-approval on a financing deal, provided by 23 Capital, to fully fund Swift's acquisition at the $300 million price. The offer was rejected;
Braun's second offer came nearly a year later, in October 2020. Our source says that, this time, Braun offered to sell Swift's 'Big Machine' masters to the artist/13 Management for $305 million – representing a $100 million discount on the $405 million that Shamrock Capital would ultimately pay Braun/Ithaca for the masters. This offer, says our source, was also rejected – after which Braun went ahead with a deal to sell the masters to Shamrock.
---
In the wake of learning about these two priced offers from Scooter Braun to 13 Management, MBW contacted a source close to Taylor Swift. They replied, via email: "In 2020, the ability to evaluate any opportunity for Taylor to purchase her catalog was conditioned on signing a gag order NDA prohibiting her from ever speaking the truth about Scooter and the situation.
"Taylor has completely moved on from this saga, and has turned what started out as an extremely painful situation into one of most fulfilling creative endeavors of her life."
Our ex-employee source at Ithaca remains adamant that there was never an NDA that contained a "gag order" regarding Swift's ability to speak publicly about Scooter Braun.
The ex-Ithaca source said: "There were multiple offers for [Swift] to purchase her masters from [Braun] and at no point in the NDA was she ordered to be silent by Scooter. In fact, he isn't even mentioned. Her narrative was always very confusing to me."
---
Yesterday (June 21), Taylor Swift announced she would be bringing her record-breaking Eras tour to the UK, Europe, and Asia in 2024.
Swift, who according to Forbes is worth $740 million, was the biggest-selling recording artist on the planet in 2022, according to IFPI.
Her newest studio album, a 'Taylor's Version' re-record of her 2010 Big Machine LP, Speak Now, is due for release on July 7.Music Business Worldwide