Spotify had 44.4m US subscribers in February, Apple Music had 32.6m, according to new data
MBW's Stat Of The Week is a series in which we highlight a data point that deserves the attention of the global music industry. Stat Of the Week is supported by Cinq Music Group, a technology-driven record label, distribution, and rights management company.
---
We know that at the close of Q1 2023 (the three months to end of March), Spotify had a total global paying subs audience of 210 million.
That number was revealed as part of the company's Q1 earnings results, in which SPOT told investors that added 5 million net Premium subscribers during the quarter.
Now we've learned how many subs SPOT had as of February 2023 in one particular music market – the world's largest.
In February, in the United States, Spotify counted 44.4 million paying subscribers.
This figure was revealed at the annual meeting of the National Music Publishers Association (NMPA) in New York last month by NMPA CEO and President, David Israelite.
Israelite explained at the June 14 event that, for the first time, the NMPA was able to determine the number of subscribers each platform achieved in the States.
"This is information that has not before been made public – some of these companies report on their subscribers, some do not," he said.
Amongst the stats revealed by Israelite was that Spotify rival Apple Music had 32.6 million subscribers in the United States in February (see below), making it the market's second-biggest subscription music service.
Apple Music has historically revealed little about how many subscribers are paying to stream music on its platform.
Apple confirmed back in June 2019 that Apple Music had passed the milestone of 60 million global subscribers – but no official figures have been released since then.
The Business of Apps estimates that Apple Music had 88 million global subscribers as of June 2022.
---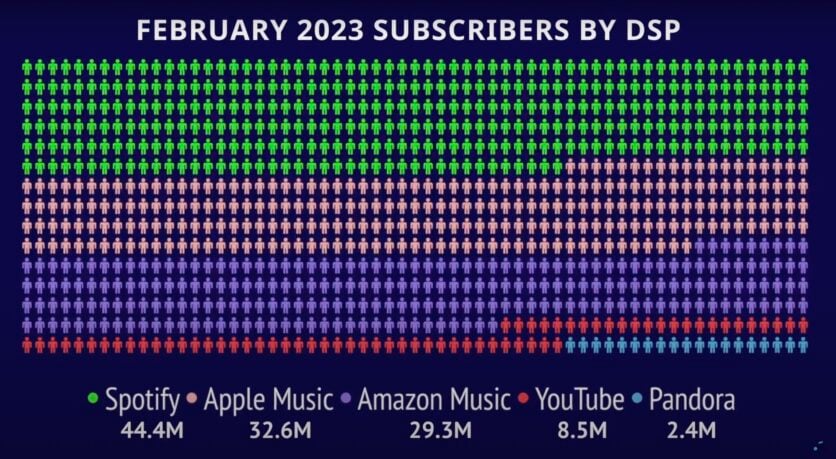 ---
Amazon Music was revealed by Israelite to be the third-largest subscription music streaming service in the US in February, with 29.3 million subscribers.
Amazon Music published its worldwide growth metrics for the first time ever back on January 22, 2020 revealing that, at the time, it had reached more than 55 million customers (i.e. paying subscribers plus triallists) globally.
Also in the US market, YouTube had 8.5 million subscribers in February, said Israelite, while Pandora had 2.4 million.
---
In addition to these subscriber stats, at the NMPA's annual meeting – which took place on June 14 –  David Israelite revealed what he says was a  "very significant announcement" about two of these services.
According to Israelite: "[W]hen Amazon and Apple raised their subscription prices, not only did they not lose subscribers – they experienced subscriber growth."
In Q4 last year, Apple Music announced that it was upping its standard monthly subscription price from USD $9.99 to $10.99 in the US, and GBP £9.99 to £10.99 in the UK. It also increased the price of its Family Plan in both territories.
In January, Amazon Music confirmed to customers that, like Apple, it would be raising its standard individual Amazon Music Unlimited monthly subscription price from $9.99 to $10.99 in the US, and from £9.99 to £10.99 in the UK.
Amazon Music also upped its Amazon Music Unlimited Student Plan from $/£4.99 to $/£5.99 per month in each respective territory. Additionally, Amazon Music increased equivalent pricing in Germany and Japan.
"Music continues to be undervalued in the pricing by digital music services."

David Israelite, NMPA
Israelite said that the fact both services saw growth after raising their prices in the States "shows you that music continues to be undervalued in the pricing by digital music services. We have a long way to go. But I am hopeful that this new information will be the encouragement that the industry needs to get pricing where it should be."
News of Apple Music and Amazon Music's lack of subscriber churn after increasing their subscription prices comes amidst growing calls for the world's largest subscription service, Spotify, to increase its own prices.
Spotify has so far refused to join Apple Music and Amazon Music in raising the price of its $9.99 Premium subscription tier in the US.
According to a recent report, Daniel Ek's company is preparing to roll out a more expensive subscription tier in the US that includes HiFi audio quality and expanded access to audiobooks.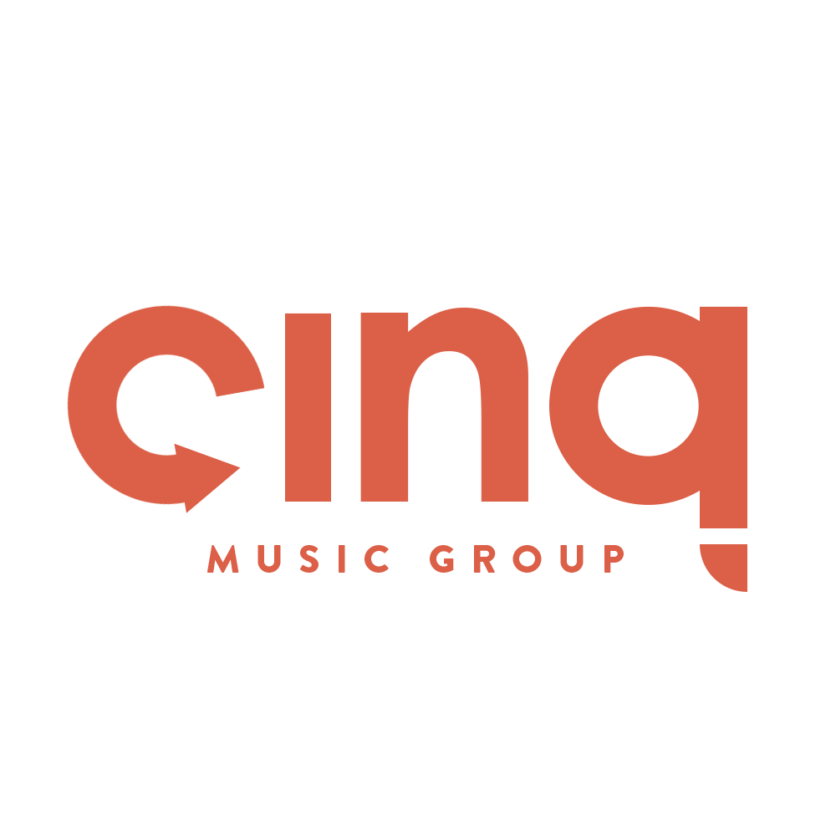 ---
Cinq Music Group's repertoire has won Grammy awards, dozens of Gold and Platinum RIAA certifications, and numerous No.1 chart positions on a variety of Billboard charts. Its repertoire includes heavyweights such as Bad Bunny, Janet Jackson, Daddy Yankee, T.I., Sean Kingston, Anuel, and hundreds more.Music Business Worldwide