The Taylor Swift catalog sale saga: Following the money
Four years ago this month, a major music business story was bubbling away in Nashville.
Scott Borchetta, founder of country indie powerhouse Big Machine Label Group (BMLG), had put his company up for sale.
Borchetta and BMLG's reps had convened with several potential suitors, amongst them the three major record companies – Universal Music Group, Sony Music Entertainment, and Warner Music Group.
The jewel in the crown of BMLG's catalog back then is now a matter of music biz infamy: The master rights to the first six albums by global pop megastar, Taylor Swift.
Universal, said reports at the time, got close to acquiring Big Machine's label.
Yet according to Music Business Worldwide sources close to the finalized deal, only one party – Scooter Braun's Ithaca Holdings – was willing to significantly improve on the $300 million pricetag Borchetta sought for his company.
In summer 2019, it became official: Ithaca was to buy BMLG and its sister publishing company for a combined price that MBW has now confirmed was $330 million on the nose.
What happened afterward fuelled headlines, fan indignation, and music biz whisper-thons for months, and years, to come.
With the dust now relatively settled on the cacophonous fallout from the Braun/Ithaca/BMLG/Swift deal, Music Business Worldwide has in the past few weeks – via multiple sources close to the key transactions involved – done our darndest to follow the money in this narrative.
By doing so, we've been able to shed new light on who got paid what, when, and by who.
Below, we walk through some of the standout moments in this tale, piecing together what MBW knew in the past – and what we've learned now.
In doing so, we paint a clearer picture, through a financial lens, of what's surely music's most talked-about deal of the past decade…
---
Chapter 1: The initial sale (June 2019)
WHAT WE KNEW THEN…
On June 30, 2019, Ithaca Holdings and Big Machine Label Group formally announced that Scooter Braun's company had acquired Scott Borchetta's. The deal included the master rights to Taylor Swift's first six albums.
In making the announcement, Braun said of Borchetta: "He's built a brilliant company full of iconic songs and artists. Who wouldn't want to be a part of that?"
Reports at the time suggested that Ithaca Holdings had acquired Big Machine for around $300 million.
---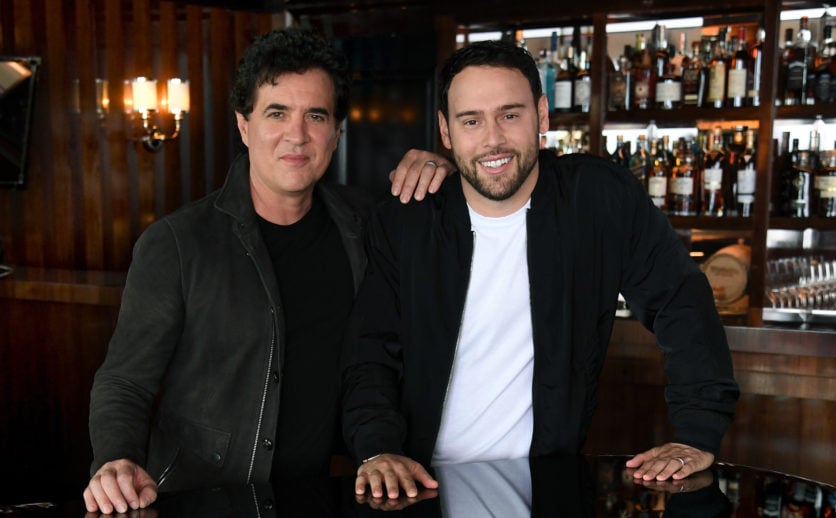 ---
WHAT WE KNOW NOW…
According to MBW's watertight sources – who were directly involved in negotiating the deal – the June 2019 agreement between Ithaca Holdings and BMLG was for a price tag of $330 million.
That price comprised $300 million for Borchetta's label group, plus a further $30 million for Big Machine's publishing operation (including its Luke Combs catalog).
Taylor Swift's six-album master catalog at BMLG, say our sources, was individually valued by Braun's team as being worth $140 million.
Another fact worth clarifying, which increases in importance later on in this timeline: It was never known at the time what percentage Carlyle Group, then Scooter Braun's primary investor, owned in Ithaca Holdings.
According to MBW's sources, Braun owned the majority of Ithaca – a 64% stake – until the day he sold it, in April 2021, to HYBE.
---
Chapter 2: The initial fallout (June-August 2019)
WHAT WE KNEW THEN…
Everything kicked off on the same day the BMLG sale was announced: June 30, 2019.
Taking to her Tumblr blog later that day, in a passionate public diatribe, Taylor Swift accused Scooter Braun of "incessant, manipulative bullying".
This accusation was later rebutted by Braun's long-time client, Justin Bieber, who responded in a social media note addressing Swift: "Scooter has had your back ever since you graciously let me open [concerts] for you".
In her blog, Swift appeared to personally blame Braun for, amongst other things, the June 2016 music video for Kanye West's Famous, which depicted West and Kim Kardashian in bed with naked lookalikes of celebrities including Donald Trump, Rihanna (who featured on the record), Vogue Editor-In-Chief Anna Wintour, George W. Bush, and Swift herself.
Following its release, Vanity Fair called the Famous video "thought-provoking"; Kanye West called it a "comment on fame".
Swift picked stronger words for it: "revenge porn".
Famous, of course, contained an unseemly lyric from West that overtly targeted Swift: "I feel like me and Taylor might still have sex; I made that b**ch famous."
(Looking at the chronology, Scooter Braun's possible involvement in the Famous video isn't clear: According to a Billboard scoop, Braun officially became Kanye West's co-manager in March 2016. That was after Famous had been released via the Life Of Pablo album in February 2016, and, say sources, after West's video for the track had wrapped shooting.)
From a music business dealmaking perspective, intrigue was raised by other comments in Swift's June 2019 Tumblr blog, this time directed at both Braun and the seller of her catalog, Scott Borchetta.
Swift claimed that following the completion of her six-album recording contract with Big Machine – marked by the release of Reputation in November 2017 – she'd "pleaded" with Borchetta for the "chance to own my work".
Swift acknowledged in her blog that Borchetta and Big Machine had offered her this chance. But she alleged that they did so on an unacceptable condition: that she "earn" back the rights to each of her first six albums, one by one, for every new album she recorded for Big Machine.
---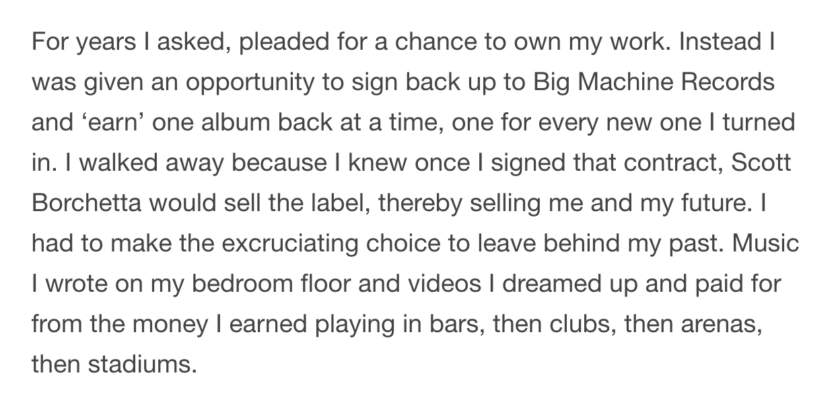 ---
Eight months earlier, in November 2018, Taylor Swift had announced her departure from Big Machine – while confirming a new, direct global deal with UMG for her future works.
In an Instagram post, Swift posed with UMG boss Sir Lucian Grainge and Republic Records head, Monte Lipman, while expressing "heartfelt thanks" to Scott Borchetta.
One of the most important pieces of news Swift revealed that day? Universal Music Group was allowing her to keep ownership of the master rights to her post-Reputation music.
Music business high-flyers have since characterized Swift's UMG deal as one of the most artist-friendly major record label deals ever signed with a superstar.
"She got a monster check and a very, very skinny distribution charge."

Ex-Warner Music boss, Steve Cooper, on Taylor Swift's deal with UMG
Former Warner Music Group CEO, Steve Cooper, said last year of the Swift/UMG deal: "She got a monster check and a very, very skinny distribution charge."
Cooper further suggested that, from his perspective, the Swift/UMG deal didn't represent "the right side of economics".
(MBW understands that UMG's "skinny" distribution margin in its Swift deal increases outside the US, especially for physical releases, while UMG also holds active global publishing and merch deals with the star.)
---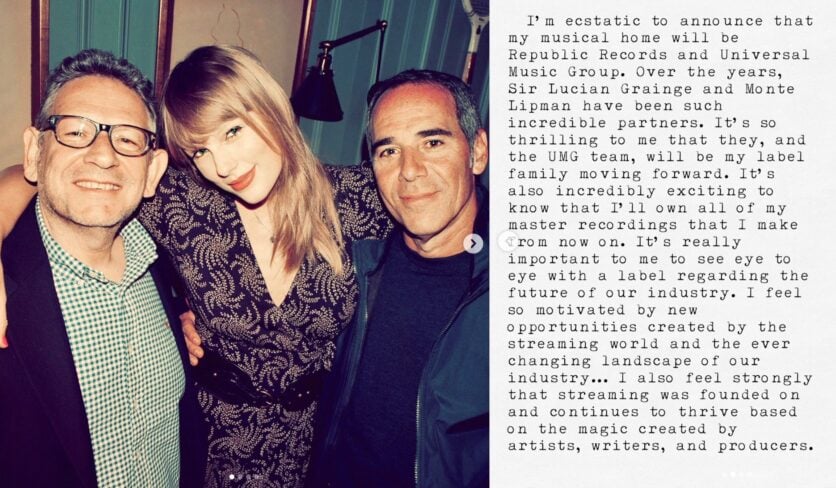 ---
In her June 2019 Tumblr blog, Swift said: "I walked away [from the alleged Big Machine offer that would enable her to 'earn' back her albums] because I knew once I signed that contract, Scott Borchetta would sell the label, thereby selling me and my future."
Of the news that Borchetta had now sold that work to Ithaca, she claimed: "I learned about Scooter Braun's purchase of my masters as it was announced to the world."
Scott Borchetta had a markedly different take on Swift's exit from Big Machine.
After Swift's Tumblr post had ignited global uproar amongst her fans on social media, Borchetta – who signed Swift to his record label in Nashville when she was a teenager – offered a counterpoint on Big Machine's own website.
"Upon execution, BMLG shall assign to TS all recordings (audio or audio-visual), artwork, photographs, and any other materials relating to TS which BMLG owns or controls."

Clause in deal proposal between Big Machine and Taylor Swift's team, August 2018
Under the heading, 'So, It's Time For Some Truth…', Borchetta posted an image of a purported textual deal negotiation between Big Machine and Swift's team, outlining a potential new record contract post-Reputation.
In this document, deal point No.2 – requested by Swift's team – read: "Upon execution, BMLG shall assign to TS all recordings (audio or audio-visual), artwork, photographs, and any other materials relating to TS which BMLG owns or controls."
According to the proposal, BMLG acceded to this request. (There did not appear to be any mention of the 'one album for one album' structure suggested by Swift in her Tumblr blog.)
However, there was a clear disagreement apparent in the document (pictured below): Team Swift proposed that, in return for her signing the deal, BMLG would have an exclusive global license to all Taylor Swift recordings, old and new, for a period of seven years.
BMLG instead requested a ten-year tenure for the new contract.
---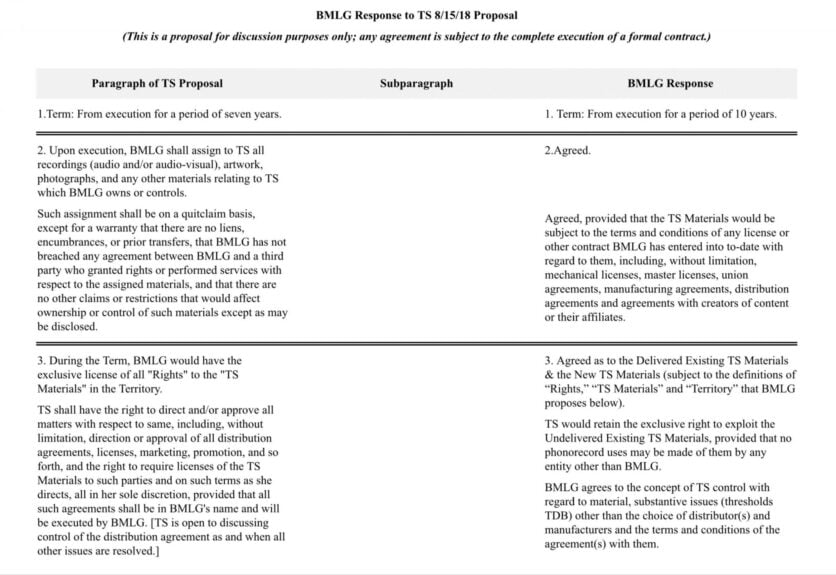 ---
Within his blog post, Borchetta claimed that Taylor Swift's father, Scott Swift, was a shareholder in Big Machine Records LLC, and that all shareholders had been informed, on June 25, 2018, of the company's pending deal to sell to Ithaca.
Wrote Borchetta: "On the 6/25 call the shareholders were made aware of the pending deal with Ithaca Holdings and had 3 days to go over all of the details of the proposed transaction. We then had a final call on Friday, June 28th in which the transaction passed with a majority vote and 3 of the 5 shareholders voting 'yes' with 92% of the shareholders' vote.
"Out of courtesy, I personally texted Taylor at 9:06pm, Saturday, June 29th to inform her prior to the story breaking on the morning of Sunday, June 30th so she could hear it directly from me.
"I guess it might somehow be possible that her dad Scott, 13 Management lawyer Jay Schaudies (who represented Scott Swift on the shareholder calls) or 13 Management executive and Big Machine LLC shareholder Frank Bell (who was on the shareholder calls) didn't say anything to Taylor over the prior 5 days. I guess it's possible that she might not have seen my text. But, I truly doubt that she 'woke up to the news when everyone else did'."
"I guess it's possible that she might not have seen my text. But, I truly doubt that she 'woke up to the news when everyone else did'."

Scott Borchetta, June 30, 2019
A few days later, Swift's lawyer, Donald Passman, told the media in a statement: "Scott Borchetta never gave Taylor Swift an opportunity to purchase her masters, or the label, outright with a check in the way he is now apparently doing for others."
Reading between the lines, the specificity of Passman's comment is interesting: It is not a denial that BMLG offered Swift the proposed contract as depicted by Borchetta; it does, however, infer that Swift didn't get the chance to buy her rights from the label via a simple fee in the same manner that Ithaca Holdings did.
---
WHAT WE KNOW NOW…
Remember, MBW's particular focus in this article is the money, and the paper trail, in this deal.
With that in mind, it's probably best that we recuse ourselves from wading too far into the personal allegations made by Swift against Scooter Braun.
One thing we can verify is Scott Borchetta's claim that Scott Swift – Taylor Swift's father – was one of the five shareholders of BMLG.
Mr Swift, a former stockbroker for Merrill Lynch, invested early into both Big Machine and in his daughter's potential.
MBW has obtained a subscription agreement between Big Machine Records LLC and Scott Swift, dated January 1, 2006, which grants Mr. Swift 416,666 common shares in the company plus 500,000 preferred shares, for a total price of USD $500,416.66.
(The previous year, aged 15, Swift signed her first ever record deal with the label.)
---

---
In addition, MBW has seen confirmation sent to Mr. Swift's representatives from Big Machine Label Group LLC, in August 2019, confirming a payment to Mr Swift of USD $15.1 million.
This payment was made as a result of the sale of Big Machine to Ithaca in June 2019.
Sources tell us that, at the point of sale to Ithaca, on the cap table of Big Machine Label Group, Mr. Swift owned slightly over 5% of the company.
This would make sense with what MBW has now discovered: 5% of the $300 million paid by Ithaca for the recorded music part of BMLG – Big Machine Records LLC – works out to $15 million.
---
Chapter 3: The second sale (December 2019 – November 2020)
WHAT WE KNEW THEN…
During the second half of 2019 and into 2020, Taylor Swift continued to wage a campaign against Scooter Braun and the sale of her masters to Ithaca.
In December 2019, collecting a Woman Of The Decade Award at Billboard's Women In Music Awards in Hollywood, Swift suggested that the "unregulated world of private equity coming in and buying up our music as if it is real estate" was a "potentially harmful force in our industry".
She continued: "This just happened to me without my approval, consultation, or consent. After I was denied the chance to purchase my music outright, my entire catalog was sold to Scooter Braun's Ithaca Holdings in a deal that I'm told was funded by the Soros Family, 23 Capital, and the Carlyle Group.
"Yet to this day none of these investors have ever bothered to contact me or my team directly to perform their due diligence on their investment. On their investment in me. To ask how I might feel about the new owner of my art."
Swift then claimed that "[Braun] never contacted me or my team to discuss it prior to the sale, or even when it was announced."
---
---
In April 2020, this time on Instagram, Swift publicly expressed her anger that Ithaca/Big Machine was releasing an old live radio set of hers, dating back to 2008, as an album on streaming services.
She characterized this release as potential proof that "Scooter Braun and his financial backers, 23 Capital, Alex Soros and the Soros family and The Carlyle Group have seen the latest balance sheets and realized that paying $330 MILLION for my music wasn't exactly a wise choice and they need money".
By November 2020, this allegation had become moot: that month we learned that Braun had sold all of the recording rights to Taylor Swift's first six albums to Shamrock Capital for an undisclosed price, reported at the time to be "$300 million+".
As news of the Shamrock/Ithaca deal hit the headlines, on November 16, 2020, Swift released another missive on social media.
---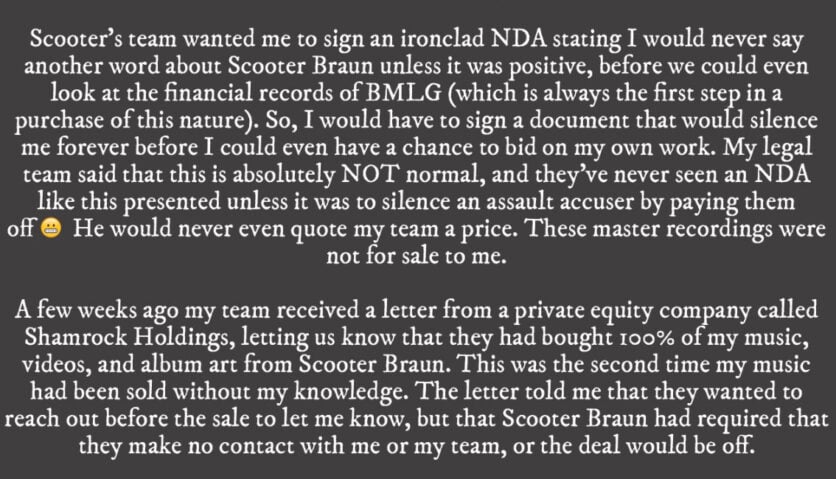 ---
This time, Swift attached a letter she'd sent Shamrock Capital the previous month, upon learning of its acquisition of her masters.
She made two key new allegations:
Swift revealed that her team had been "actively trying to regain ownership of my master recordings" for the prior year from Ithaca Holdings. However, she alleged that, in order for her to do so, "Scooter's team wanted me to sign an ironclad NDA stating I would never say another word about Scooter Braun unless it was positive, before we could even look at the financial records of BMLG (which is always the first step in a purchase of this nature)". She surmised: "These master recordings were not for sale to me."
Swift said that Braun would "continue to receive many years of future financial reward from my music masters, music videos, and album artwork". This was the main reason, she said, why she refused to work with Shamrock to promote her classic first six albums. Instead, Swift said, she would be moving ahead with a plan to re-record her first six albums, noting her belief that this would "diminish the value of my old masters".
These re-recordings are now known as Swift's 'Taylor's Version' releases. The third of these re-records, Speak Now (Taylor's Version), is due for release in July this year.
---
WHAT WE KNOW NOW…
Taylor Swift was 100% correct in her claim that Ithaca Holdings paid USD $330 million for Big Machine in June 2019. (Although, as we established earlier, this was for both the record company and Big Machine's publishing company.)
What hasn't been known until today was the price that Shamrock then paid Ithaca Holdings to acquire Swift's first six albums, a year-and-a-half later, in November 2020.
MBW has spoken to sources involved with that deal, and learned that Shamrock's transaction with Scooter Braun saw the financial company pay USD $360 million upfront for Swift's 'Big Machine' masters.
Braun also secured the possibility of an earn-out for a further $45 million – dependent on Swift's original recordings hitting certain commercial targets under Shamrock's ownership. That earn-out took the total deal price to $405 million.
Something else important we've uncovered from around this time: Swift's management company actually did sign an ironclad NDA (seemingly entering into preliminary negotiations over Swift's catalog) with Scooter Braun's Ithaca in late 2019.
MBW has obtained a five-page NDA agreement between Ithaca Holdings and 13 Management LLC, dated November 22, 2019, regarding a "Possible Transaction" between the two parties.
---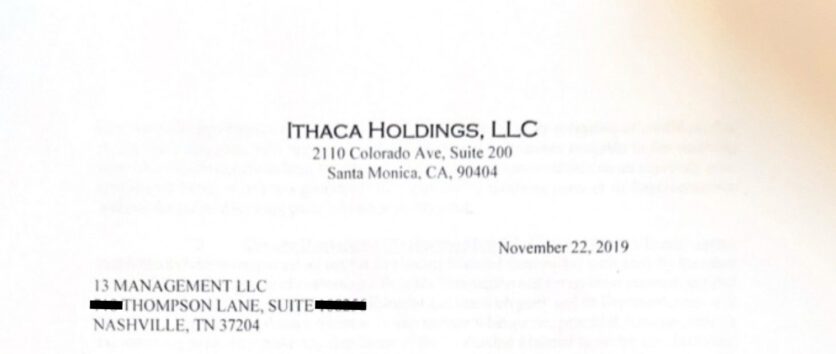 ---
Within this agreement, Ithaca Holdings said it was "prepared to make available to [13 Management] certain information concerning the business, financial condition, operations, assets and liabilities of Ithaca, including without limitation those related to its affiliate Big Machine Label Group".
The NDA further stated that Ithaca would be willing to hand over to 13 Management "all non-public, proprietary business information regarding a Possible Transaction, relating, directly or indirectly, to such party or its business, clients, potential acquisition targets, condition (financial or other), operations, assets, liabilities, results of operations, cash flows or prospects".
The NDA was signed by Jay Schaudies – a key member of Swift's management team – on behalf of 13 Management, and by Scooter Braun on behalf of Ithaca. It did not mention any reputational guarantees for Braun.
Whether or not negotiations ever began in earnest between Ithaca and 13 Management regarding a potential sale of Swift's masters back to the artist – before Shamrock stepped in – a deal was clearly never reached.
---
Chapter 4: The HYBE acquisition, and how the owners of Swift's masters, despite bad blood, ended up successful (November 2020 – present)
WHAT WE KNEW THEN…
After being made public, one part of Taylor Swift's October 2020 letter to Shamrock caused some puzzlement (including this author's): How could Scooter Braun "continue to receive many years of future financial reward from [Swift's] music masters" after selling them to Shamrock?
In hindsight, the answer is obvious: The recording rights to Swift's first six albums may now be owed by Shamrock Holdings (via its Apollo A-1 LLC vehicle), but they continue to be distributed by their original home – Big Machine Records, via Universal Music Group.
These days, of course, Big Machine is no longer owned by Ithaca – because, in April 2021, Ithaca was bought by South Korean music giant HYBE in a $1 billion-plus deal.
---
WHAT WE KNOW NOW…
Scooter Braun might no longer be the owner of Taylor Swift's masters, but he is probably a billionaire.
Let's run the numbers of his buying and selling pre-HYBE deal.
Remember: Braun's Ithaca Holdings acquired Swift's catalog at a $140 million valuation as part of his $330 million acquisition of Big Machine (label and publishing) in June 2019.
Braun then sold Swift's catalog to Shamrock a year-and-a-half later for $360 million, with the possibility of that figure rising to $405 million depending on the commercial performance of Swift's first six albums in the years that followed.
MBW has confirmed that Braun/Ithaca achieved a full earn-out from this deal in Q1 2023, making a $265 million profit from Braun's buy-and-sell of Swift's recordings (i.e. buy for a $140m valuation in June 2019; sell for $405m in November 2020).
"Scooter told Shamrock that Taylor's re-records would ultimately bump her catalog on streaming, not damage it, in the long-term."

MBW source, close to the Shamrock transaction
Some tittle-tattle emerged following the sale of Swift's masters to Shamrock – as per the Financial Times – that, during negotiations, Braun had led Shamrock to believe that Taylor Swift wouldn't re-record her original albums.
This is disputable: the Shamrock deal was confirmed three months after Swift had publicly announced her intention to re-record her 'Big Machine' albums.
Says a source close to Braun. "Scooter told Shamrock that Taylor's re-records would happen and would do very well. He actually felt that their visibility in the marketplace would ultimately bump the 'Big Machine' catalog on streaming, not damage it, in the long-term.
"That's why Shamrock put an extra earn-out figure in Scooter's deal – to test if his 'all boats will rise' theory was correct."
---
Then there's the detail of the HYBE deal.
MBW has learned via sources close to the transaction that HYBE paid USD $1.20 billion to acquire Ithaca (inclusive of Big Machine, minus those six Taylor Swift albums) in 2021.
Remember, Scooter Braun owned 64% of Ithaca at this point, with minority investors including Carlyle owning the rest.
Ithaca, which turned over just under $132 million per year in 2020 – had $100 million of debt on its balance sheet when HYBE executed its acquisition.
So: After paying off the debt, Ithaca's shareholders received USD $1.10 billion for the sale to HYBE, with Braun netting a 64% share ($704 million, pre-tax) from the majority-cash deal.
Following the HYBE acquisition, Braun famously handed $50 million of his personal stock in Ithaca's new parent company to artists and loyal staff; he's understood to have paid Justin Bieber and Ariana Grande, his two longest-serving clients, $10 million in HYBE stock apiece.
---

And what of Taylor Swift? That's perhaps the most fascinating part of this story.
Swift has remained impressively prolific since she broke away from her Big Machine deal, releasing no less than six new albums (all of which she owns) since 2019.
These have included four new studio albums (Lover; folklore; evermore; and 2022's Midnights) plus two 'Taylor's Version' LPs (Fearless and Red), with Speak Now on the way this summer.
Swift's also never been more successful.
She topped the IFPI's list of the biggest revenue-generating artists in 2022, as Midnights, her most recent studio LP, became her fastest-selling album in history.
Forbes recently suggested she is now worth a staggering $740 million.
---
One quirk of Swift's all-time-high popularity today (helped by a general uptick in music streaming consumption): overall streams of Swift's six 'Big Machine' albums have been pulled skyward by her success in the years that followed their sale to Ithaca Holdings.
Below, via Luminate data crunched by MBW, you can see the annual on-demand US audio streams of Swift's six original Big Machine albums from 2019-2022.
Some key takeaways:
The most popular records in Swift's Big Machine catalog are flying. Last year, 1989, her most popular album from that period, racked up not far off double the US audio streams it recorded in 2019 (430.3m vs. 736.4m);
After seeing a year-on-year drop in annual streams in 2020 – due to the 'decay curve' of popularity since its release in 2017 – total streams of Swift's last album for Big Machine, Reputation, have bounced up and up, numbering over 580 million in 2022;
However, Swift's two 'Taylor's Version' re-records so far – Red and Fearless – do appear to have impacted on the popularity of her original 'Big Machine' versions of these albums, at least in the short-term. US annual on-demand audio streams of the 'Big Machine' versions of Red and Fearless dipped year-on-year in 2022 versus 2021, though the original versions of the two records still jointly pulled in over half a billion streams last year. (If you were wondering: The 'Taylor's Version' of Red racked up 961.6 million US on-demand audio streams in 2022; the 'Taylor's Version' of Fearless pulled in 401.2 million; 2022 was the first full calendar year that both 'Taylor's Version' records were available in the market.)
---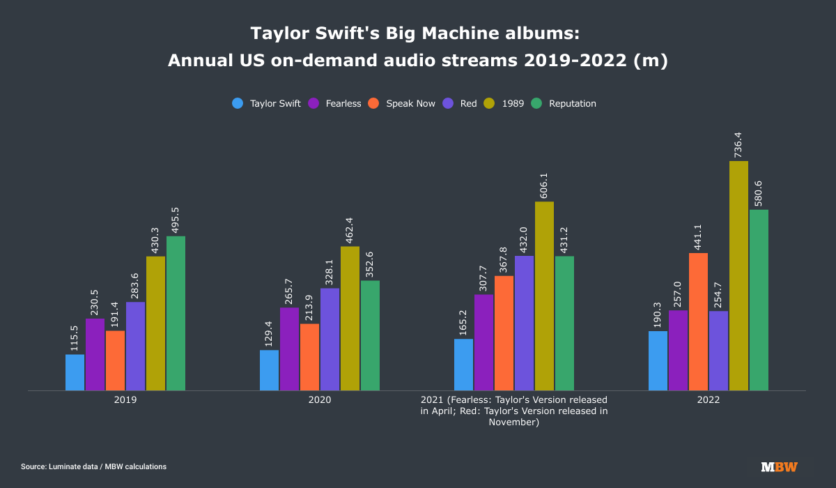 ---
Overall, however, the picture is clear: Taylor Swift's six 'Big Machine' albums were cumulatively more popular than ever in 2022.
They jointly pulled in 2.46 billion on-demand audio streams in the US, according to Luminate data crunched by MBW (see below).
Despite the YoY dip in streams for Red and Fearless in 2022 (likely impacted by the presence and marketing of their 'Taylor's Version' equivalents), that 2.46 billion cumulative stream count for Swift's six 'Big Machine' albums was up by 150 million plays on the same number in 2021.
And get this: in 2023 so far, Swift's most popular Big Machine album – 1989 – has already been streamed (via on-demand audio streaming platforms) in the US more than 560 million times… and we're not yet even halfway through the calendar year.
---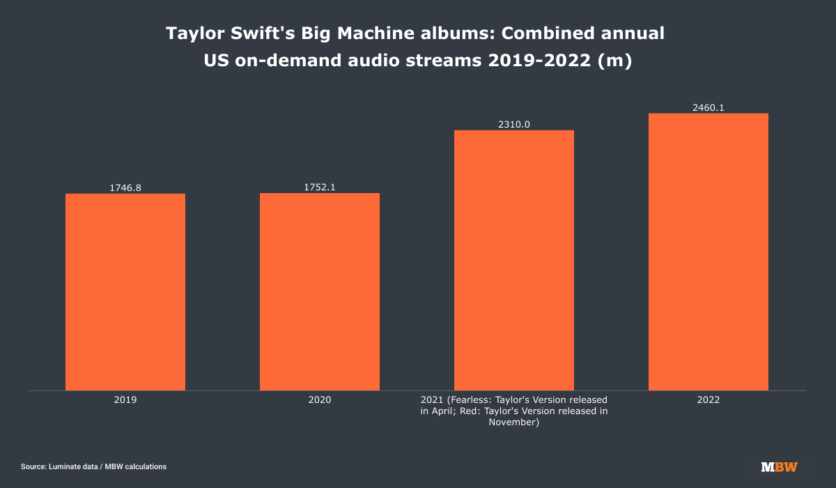 ---
At times, considering her anger over Scooter Braun's initial acquisition of them – and Shamrock's subsequent acquisition of them – Taylor Swift might have wanted her fans, both old and new, to move on from the first six albums on which she built her superstardom.
Yet as she enters a new stratosphere of global career success – one in which she's so popular, she literally breaks Ticketmaster – this seems an unlikely possibility.
Perhaps one day Swift will mellow on the ownership of her first six records; perhaps she won't. Perhaps there are twists in this tale yet to be seen.
One thing's for sure: Swift's ever-escalating popularity, powered by a recent run of acclaimed albums – the rights to which she fully owns – appears to know no bounds.
As a result, the value of her work – both past and present – keeps on moving in one direction.Music Business Worldwide