Timothy Xu, former Sony Music boss in China, named CEO and Chairman of Universal Music Greater China
Universal Music has a new boss in China.
Timothy Xu has been named CEO and Chairman of Universal Music Greater China, where he will head up the company's operations across Mainland China, Hong Kong, and Taiwan.
Xu joins UMG from Taihe Music Group (TMG), where he was named President & CEO in 2018. TMG claims to have the world's largest market share in Chinese music.
Prior to joining TMG, from 2012 to 2016, Xu served as Chairman & CEO, Greater China for Sony Music, overseeing the major's business activities in mainland China, Hong Kong, Taiwan and Vietnam.
The news was first reported by Bandwagon Asia.
Xu's appointment at Universal arrives following the retirement earlier this year of UMG Greater China's longstanding Chairman, Sunny Chang.
China broke into the world's Top 5 recorded music markets in 2022, according to IFPI data, landing at No.5 ahead of France (No.6), South Korea (No.7) and Canada (No.8, see below).
China generated USD $1.2 billion for recorded music rightsholders in the year, says IFPI, up 28.4% YoY.
---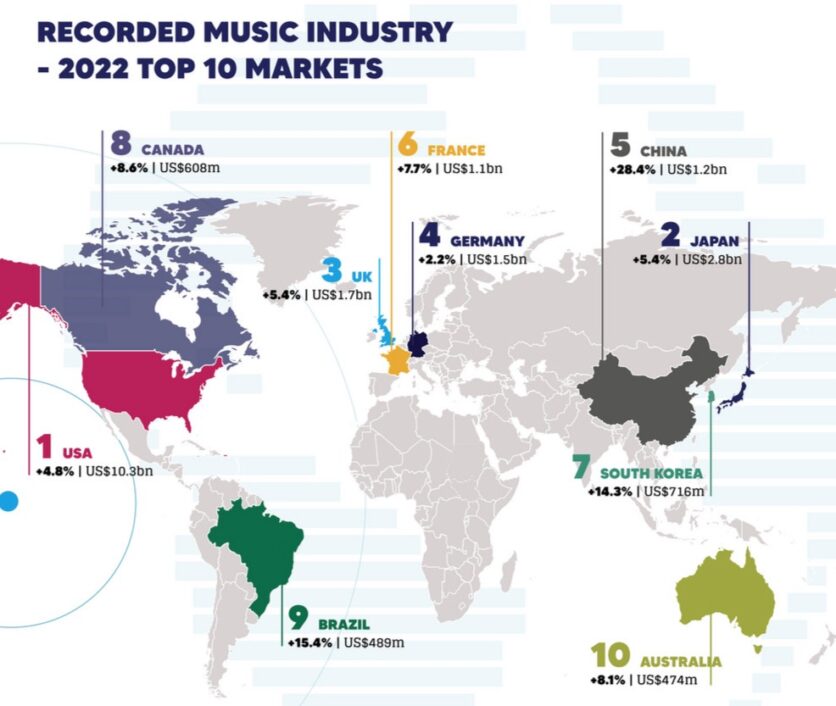 ---
Timothy Xu said of his new role at UMG: "I am delighted to join Universal Music Group as Chairman & CEO of Greater China as we look to further establish the company as a dynamic and innovative leader in China's music ecosystem.
"I would like to thank both Sir Lucian Grainge, and Adam [Granite] for the opportunity to join the world's leading music company, and for sharing my big ambitions for UMG's future business development, and artist success across the region (and beyond)."
Sir Lucian Grainge, Chairman & CEO, Universal Music Group said, "I am thrilled to welcome Timothy to lead our operations in Greater China. He's a real music exec, given his deep experience generating creative and commercial success in the region.
"I'm confident Timothy be instrumental as we continue to drive growth in the exciting and vibrant Chinese music market."
Adam Granite, Executive Vice President, Market Development, UMG, added: "Having worked together in the past, Timothy's unique and versatile experience across the sector will bring new opportunities to expand all areas of our business operations within Greater China, whilst also accelerating our focus on introducing Chinese music, culture, and artist talent to new markets and audiences around the world."
"I'm confident Timothy be instrumental as we continue to drive growth in the exciting and vibrant Chinese music market."

Sir Lucian Grainge, Universal Music GRoup
Established in 2021, Universal Music Greater China's flagship label brands include Republic Records China, Capitol Records China, EMI China, PolyGram Records China, and Universal Music China.
According to Universal Music Group's 2022 annual report for shareholders, published earlier this year, Tencent Music Entertainment (TME) was originally granted a call option to acquire up to 25% of the holding company that controls UMG's Greater China operations.
However, more recently, as the exercise period on that agreement was due to expire, this call option was amended in two ways:
(i) Tencent Holdings, the majority-owner of TME, replaced TME as the counterparty on the call option; and
(ii) Tencent Holdings secured the option to acquire a smaller stake – up to 12.5% – in the holding company.
The UMG annual report for 2022 further confirmed that Tencent Holdings had 24 months from the date of being granted this new agreement to exercise the amended call option.
A Tencent-led consortium, Concerto Partners LLC, today owns around 20% of Universal Music Group N.V, which is listed on the Amsterdam Euronext stock exchange. The Tencent consortium acquired that 20% stake over two stages, in 2020 and 2021.
Prior to working at Taihe Music Group and Sony Music Entertainment, Timothy Xu held positions at EMI Music & EMI Music Publishing China and Warner Music China, having started his career with China National Publications Import & Export Corporation (CNPIEC) in 1992.
He currently represents China's music business as Vice-Chairman, China Music Industry Committee (CMIC).
In addition, he is the co-founder and Chairman of China's Music Industry Committee Music Awards (CMA), Deputy Director of Emerging Music Group Working Committee, China's Chinese Musicians Association, and a consultant for the Digital Music Working Committee, China Audio-Video and Digital Publishing Association.Music Business Worldwide