Universal is spending $50 million to boost its market share in Thailand. Expect more M&A activity in Asia to follow.
MBW Reacts is a series of analytical articles from Music Business Worldwide written in response to major recent entertainment events or news stories. In this case, we're looking at the market dynamics behind Universal Music Group's decision to spend USD $45.5 million (and potentially another $4.9 million) to buy a majority stake in one of Thailand's most significant independent record companies.
---
Universal Music Group is the world's biggest recorded music company by a not-insignificant distance.
In Q1 this year, UMG's recorded music turnover from streaming was USD $1.426 billion, according to financial data published in the Netherlands for its investors*.
That was 27% bigger than the equivalent global streaming recorded music turnover at Sony (USD $1.123 billion) in calendar Q1 – and nearly double the streaming recorded music turnover posted by Warner Music Group (USD $773 million) in the same period.
(* Currency-converted at the average USD-EUR quarterly rate from the European Central Bank.)
---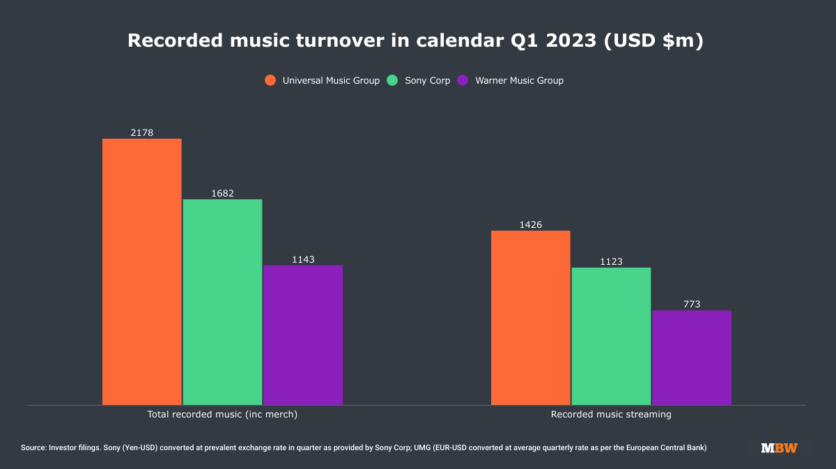 ---
Such commercial primacy in the global recorded music market is one of the key selling points of UMG's stock to investors.
As Universal's 10% shareholder (via Pershing Square), Bill Ackman, argues, Universal is a "high-quality, capital-light business that can be best thought of as a rapidly growing royalty on greater global consumption and monetization of music".
---

UMG's global revenue mix: A changing picture
If UMG investors had to pick one particular area for advancement in the company's numbers in future, they might point to its global revenue mix.
According to UMG's latest annual report, in 2022, for the first time ever, more than 50% of the company's global recorded music turnover was derived from North America (51.4%).
It should be noted that a strong dollar in the year meant that UMG's Euro-reported corporate figures gave revenues from North America additional clout.
However, the numbers continued a long-running trend of North America increasing its share of UMG's global recorded music revenues in the streaming age.
The North American market (Canada plus the United States) was responsible for just 39% of UMG's global revenues eight years prior (2014, see below).
---
---
The biggest 'loser' in terms of UMG's global revenues in those eight years (2014-2022) was Europe (including the UK), which saw its 41% share of UMG's revenues in 2014 tumble to just 27.6% in 2022.
Meanwhile, during the same period, Asia's share of UMG's revenues remained fairly steady – starting at 11% in 2014, before rising to 13.7% in 2019, and settling back down to 12.7% in 2022.
That being said, UMG hit a major milestone in Asia in 2022: Topping EUR €1 billion (€1.007bn) in reported recorded music revenue in the region.
---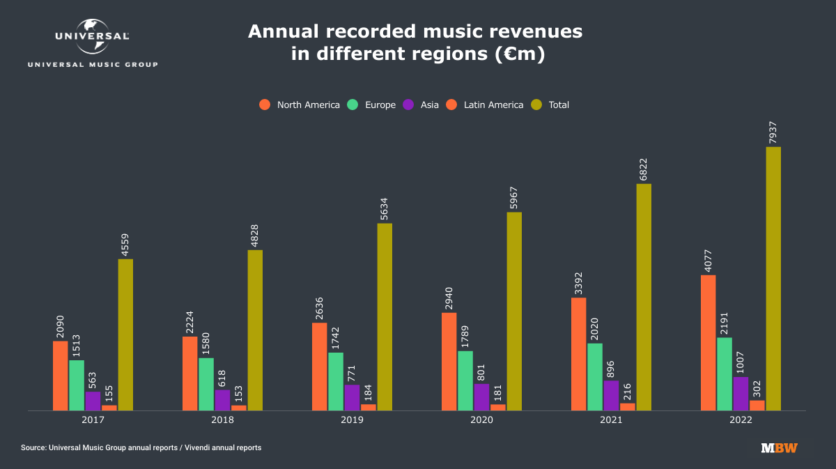 ---
From one perspective, the outsized contribution to UMG's revenues from North America in recent years was entirely predictable: Canada-plus-the-United-States contributed a whopping 41.6% of the world's recorded music wholesale trade revenues in 2022, according to IFPI figures.
That equated to approximately $10.9 billion of the global record industry turnover of $26.2 billion last year – with the United States contributing $10.3 billion alone.
However, indications in the global recorded music industry now clearly point towards a changing balance of power – with Asia in particular set to rapidly grow its share of the worldwide market.
UMG will be fully aware of this fact – and, seemingly, ready to react.
---

Understanding the numbers
According to the latest IFPI Global Music Report, Asia as a region (including Japan, China, and India) saw its recorded music revenues grow significantly faster on a percentage basis (+15.4% YoY) than North America (+5.0% YoY) in 2022.
Japan (+5.4% YoY) was once again the world's second biggest recorded music market behind the US – while China (+28.4% YoY) pushed into the world's Top 5 markets for the first time, knocking France down to No.6.
According to IFPI, revenues from Asia accounted for 22.9% of the overall global market (approx $6.0 billion), while – as mentioned – North America represented 41.6% of the overall market (approx $10.9 billion).
---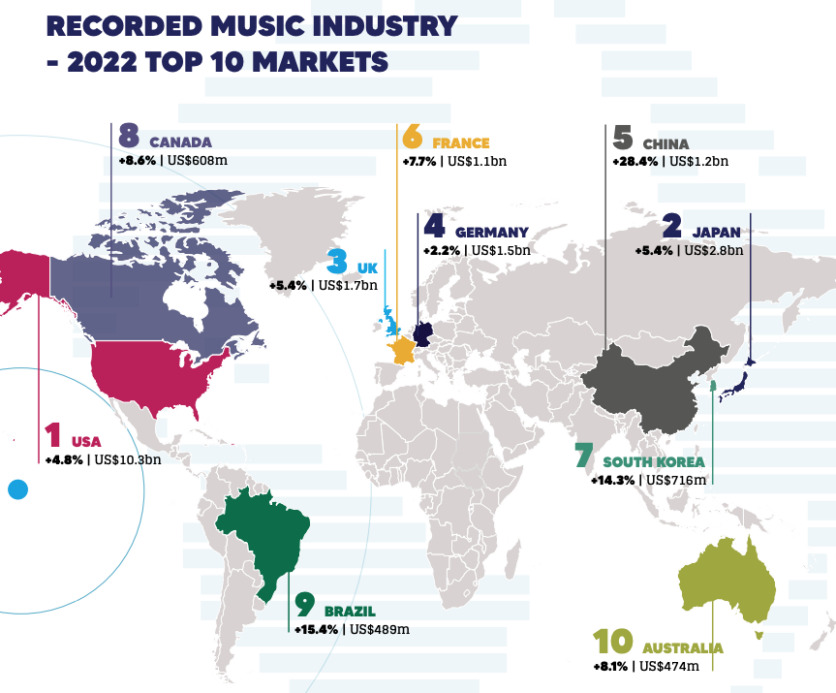 ---
But here's the really interesting thing: In actual monetary terms, according to MBW's calculations via IFPI's numbers, Asia increased its wholesale recorded music trade revenues by a larger margin (+$800 million YoY, approximately) in 2022 than North America (+$500 million YoY, approximately).
Record label sources tell us that even without Japan, Asia – thanks to the growth of regions like India, China, and South Korea – comfortably grew faster in monetary terms than North America last year.
That claim checks out when we consider a recent Sony Music presentation that dug deeper into these numbers.
Sony's presentation revealed that, based on IFPI figures, Asia (ex-Japan) generated $3.1 billion in wholesale record industry revenues in 2022 – up 26% YoY.
This indicates that, even when you omit Japan from the picture, Asia's recorded music revenues still grew by ~$650 million last year – a substantially bigger YoY growth number than North America could manage.
---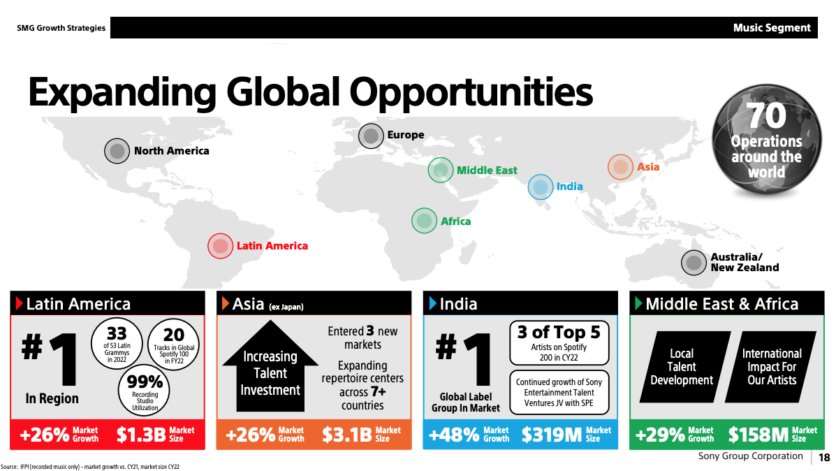 ---

The UMG strategy in Asia
This is all interesting context to consider following the news that Universal Music Group has just committed USD $45.5 million to acquire a majority stake in RS Group in Thailand (and its recorded music catalog).
That $45.5 million price-tag may rise by a further $4.9 milion in future, according to filings, while the deal is expected to close in Q3 2023.
Thailand is becoming a solid market in Asia for the recorded music industry, with 20% YoY revenue growth in 2022. The territory surpassed $100 million in wholesale market revenue for the first time last year.
The majority-buy of RS Group is a rare material international acquisition for UMG post- its 2021 float on the Amsterdam stock exchange.
The two others that stand out since that public listing are: (i) Universal's acquisition of a 49% stake in Europe-headquartered label distribution and services specialist, [PIAS], in November last year; and (ii) UMG's September 2022 acquisition of a majority stake in Indian music and entertainment company TM Ventures, which manages star Indian rapper, Badshah.
Both of these acquisitions were announced without disclosure of a price.
---
Following its (potential) $50m+ acquisition of RS Group, and that significant acquisition of India's TM Ventures, both within a year of each other, it seems that UMG may now be in shopping-mode in Asia, as it bids to grow its market share via acquisition.
(UMG's also making some organic moves to achieve the same thing – see, for example, H1 2022 announcements that included the launch of Capitol Records in China, plus the launch of Def Jam India.)
Remember: According to UMG's annual report, it generated EUR €1.007 billion in Asia in 2022, which equates – at annual average IRS rates – to USD $1.06 billion.
(Again, bear in mind here that UMG's reported EUR figure is itself potentially exposed to a degree of currency distortion.)
That USD $1.06 billion works out to a share of around 17-18% of the IFPI's figure for Asia's recorded music industry turnover (including Japan) of $6.0 billion in 2022.
Universal Music Group is more accustomed to a global market share of recorded music (bolstered by its dominant position in the US and other territories) of around 32%-33%.
As Asia's contribution to, and share of, the global recorded music market continues to grow – driven especially by China and India, but other regions too – UMG will be determined to try to secure an increasingly meaningful portion of the pie.Music Business Worldwide