Watch out Spotify: Multiple verified 'TikTok Music' Twitter accounts hint at pending global launch
When will Resso, ByteDance's subscription music streaming service – currently available in India, Indonesia and Brazil – launch in the US as 'TikTok Music'?
That's been one of the big music industry questions of 2022, following various reports regarding TikTok's ambitions to launch a music app in the market.
The launch of a dedicated TikTok Music app has the potential to shake up the streaming space. And Spotify, the largest subscription streaming service globally, will likely be watching these developments very closely.
To recap all the 'TikTok Music' related developments so far:
During the summer, MBW unearthed a US patent filing filed by Singapore-based TikTok Pte detailing a music service;
We also discovered that TikTok was hiring for "TikTok Music" staff to work on its 'TikTok Music' team;
A job ad we found explained further "Resso or TikTok Music, is a music app for Gen Z that launched [in] 2020 in India, Indonesia and Brazil".
More evidence about TikTok's plans to launch a new music app was discovered by Business Insider, in the form of a US trademark application filed by TikTok parent company ByteDance for 'TikTok Music'.
The proposed application, originally filed in Australia in November, followed by the US in May, would allow users to "purchase, play, share, download music, songs, albums, lyrics" as well as "live stream audio and video".
Now, MBW has spotted that at least six verified Twitter accounts for 'TikTok Music' have popped up for multiple global markets, all carrying the same branding and messaging, with a post that states: "Welcome to a new way to experience music."
Could a launch be imminent?
---
The main 'TikTok Music' account was set up in February and has posted just three times, all three of which were on April 25.
"Welcome to a new way to experience music."

TikTok, in Twitter post
In the most recent post, TikTok states, "welcome to a new way to experience music", which followed a previous post that states: "Discover your new favorite song".
In the first of the three posts, TikTok states simply: "Stay tuned."
---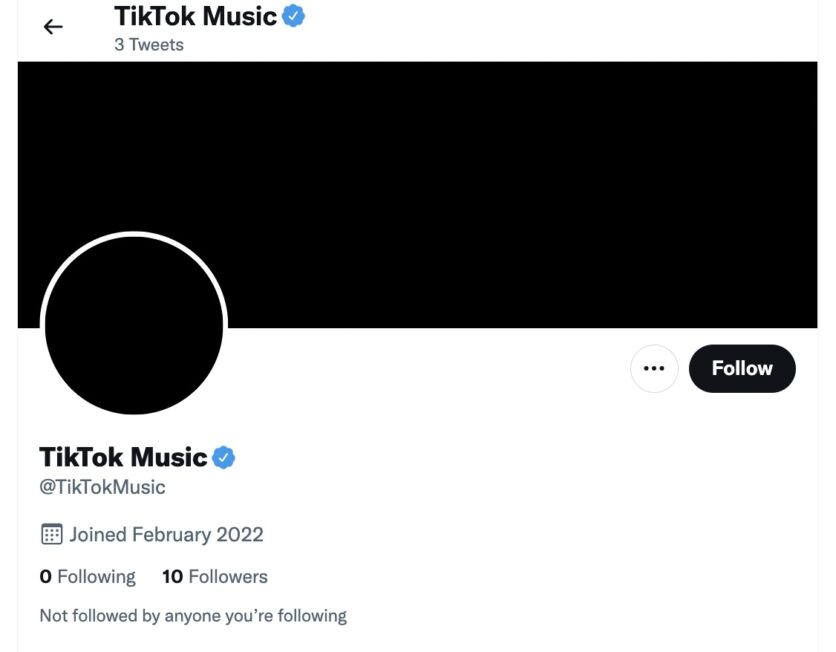 Other TikTok Music accounts have also been set up, all with the same three posts, and all verified:
The presence of multiple accounts for multiple markets, all with the same messaging, hints at a possible unified global TikTok Music launch.
The absence of specific accounts for Brazil Indonesia, and India could mean that Resso will continue operating in those markets, as Resso.
---
One giant hurdle that might be getting in the way of ByteDance and TikTok's music app plan could be the recent news that Sony Music Entertainment's entire recorded music catalog has been pulled from Resso in Brazil, India and Indonesia.
Sony's Resso catalog removal comes amid widespread discussion in the global music rights industry about the so-called 'buy-out' deals between the major record companies and TikTok.
Said deals are understood to be currently licensing the majors' catalogs to TikTok on a flat fee basis, typically for two-year periods.
Some senior figures in the business are now calling for TikTok to shift its licensing agreements with large rightsholders to a revenue-share basis, which would see music companies (and artists) paid every time music is used in a monetized video on the platform.
Another hurdle could also be licensing-related.
When Resso launched in India in 2020 it was licensed by the likes of Sony Music Entertainment, Warner Music Group, Beggars Group and Merlin, as well as large local India-based rightsholders such as T-Series, Saregama, Zee Music, Times Music and Tips.
Universal Music Group, the world's biggest rightsholder, was a notable omission from that list of partners – though is now believed to have licensed Resso.
---
Meanwhile, TikTok and ByteDance also appear to be on a music-related hiring spree, with A&R roles that look like jobs you might expect to see advertised at a record label.
On Monday (October 3) MBW reported that TikTok parent company ByteDance is hiring for A&R roles in four major North American cities (Los Angeles, New York, Miami and Toronto).
According to the job descriptions for each of those A&R roles, the execs who end up getting hired for them will need to "ensure that artists see ByteDance as the #1 partner for artist development, promotion and monetization".
TikTok is also hiring for over 100 music-related roles globally, in markets from South Africa, to Brazil, to Germany, France, the UK and India.
We noted on Monday that the recruitment drive comes amidst hiring freezes in the wider tech sector, especially at other global tech giants like Meta and Google, indicating that ByteDance and TikTok are taking music very seriously.
These new developments come six months after TikTok launched its SoundOn music distribution service.
Believe-owned digital distribution platform TuneCore was picked as the distribution partner for SoundOn.
---
TikTok recently filed the financial results for its European business for FY 2021 (ending December 31).
The filing, available publicly on the UK's Companies House for TikTok Information Technologies UK Ltd, reveals turnover of USD $990.46 million in the 12 months.Music Business Worldwide